Hall of Fame honors achievements of legendary Black athletes
Special to The Dallas Examiner | 2/9/2015, 8:35 a.m.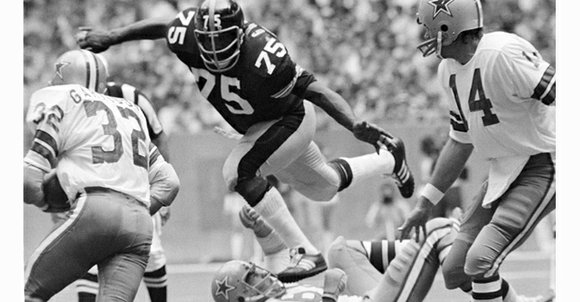 Special to The Dallas Examiner
The enshrinement of the 2015 Class of Inductees of the Parrish Texas Black Sports Hall of Fame will "Celebrate Athletic Brilliance" during a luncheon on Saturday. It will honor one of pro football's greatest defensive players of all time, an original cornerstone of the Dallas Mavericks franchise, the only Black coach to win a state 5A football crown, the football player who sparked the beginning of the post-touchdown celebration ritual, and several others. This new class makes up one of the strongest ever in almost two decades of recognizing pure sports excellence with Lone Star State connections.
"The 2015 Class of the Texas Black Sports Hall of Fame is not only a celebration of athletic brilliance, but is also a celebration of community achievements," said Ronald Parker, chair of the TBSHOF Advisory Committee. "These athletes were not only great on the field of play, but they've continued that level of performance by serving as good community stewards, in which we are very pleased in celebrating as well."
This year's class of inductees represent players and coaches in football, basketball and golf. The 11 Inductees this year have collectively attained: five Super Bowl championships; two NBA championships; one World Basketball championship; seven NCAA National Track & Field championships; three NBA All-Star appearances; 13 Pro Bowl appearances; one NFL Hall of Fame induction; and one Texas State Football championship.
TBSHOF, hosted by the African American Museum, was established in 1996 to chronicle the sports history contributions made by African Americans in Texas. The total number of inductees now stands at 239.
The luncheon will be held at 11:30 a.m. at the Crystal Terrace in Dallas Music Hall, located in Fair Park, at 909 First Ave. For more information and tickets, call Freddie Evans at 214-985-9600 and Dee Moten at 214-235-7867 or 214-565-9026, ext. 311 or visit http://www.aamdallas.org.
Parrish Texas Black Sports Hall of Fame Inductees
Joe Greene, from Temple, who is still one of the NFL's most celebrated defensive linemen from his phenomenal career with the Pittsburgh Steelers and the "Steel Curtain" defense that helped ascend the Steelers to four Super Bowl titles throughout the 1970s. Greene also performed outstandingly with North Texas State University, (now the University of North Texas) in the late 1960s.
Mark Aguirre, who joined the NBA's Dallas Mavericks in only their second season of existence and became one of the key building blocks in the team's rise to championship contention, averaging 29.5 points per game in 1984-85 and helping take the team to the Western Conference Finals in 1988. He went on to the Detroit Pistons, where he helped the "Bad Boys" capture two consecutive NBA championships.
Joe Washington Jr., from Port Arthur, who became one of Barry Switzer's favorite running backs during an All-American career at the University of Oklahoma, finishing third in the Heisman Trophy voting in 1974, before enjoying a 10-year NFL career with four teams, playing on the 1982 and '83 Washington Redskins teams that won Super Bowl XVII and appeared in Super Bowl XVIII. His father, celebrated coach Joe Washington Sr., is a 2001 TBSHOF inductee.