Madam Walker still inspiring Black community
TIM EVANS | 2/9/2015, 7:59 a.m.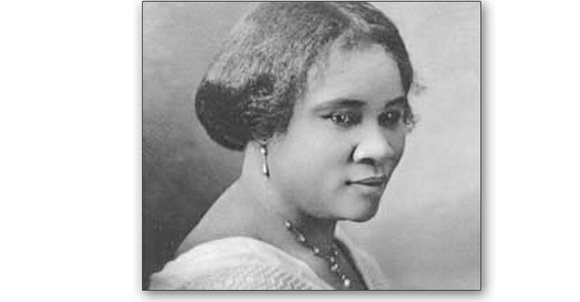 The Indianapolis Star
INDIANAPOLIS (AP) – In the early 1900s, Madam C.J. Walker turned her homemade recipes for hair and scalp care products into a business empire that made her the United States' first self-made Black female millionaire.
A century later, her legacy – which extends far beyond her unlikely business successes – is driving new generations of female African American entrepreneurs vying for a piece of the multibillion-dollar Black cosmetics industry.
"As one of the pioneers of modern hair care and cosmetics, Madam Walker is still an inspiration to a lot of people going into the business," said A'Lelia Bundles, Walker's great-great-granddaughter.
Bundles, who wrote a biography of Walker, pointed to several women behind successful Black cosmetics businesses, including Lisa Price, founder of Carol's Daughter; sisters Miko and the late Titi Branch, founders of Miss Jessie's; and Nadine Thompson of Soul Purpose Lifestyle Co.
"They have often spoken of Madam Walker as their inspiration," Bundles said.
The story behind Walker's story is as awe-inspiring as any of America's other great rags-to-riches tales.
Sarah Breedlove was born in 1867 on a Louisiana cotton plantation to recently freed slave parents. Orphaned at age 7, she married at 14 and was widowed, with a young daughter to raise, by the time she was 20.
The young mother joined the millions of other Blacks who left the South for the hope of a better life in Northern urban centers, moving to St. Louis in the late 1880s. The move reunited her with four brothers, who worked as barbers, and she found jobs as a laundry woman and cook.
Like many African American women of that time, she suffered from a scalp ailment that caused her to lose her hair. And like many others, she found there were few products designed to help with the specific properties of Black women's hair.
Bundles wrote in her biography that Breedlove "consulted her brothers for advice and also experimented with many homemade remedies and store-bought products, including those made by Annie Malone, another black woman entrepreneur."
In 1905, she moved to Denver to work as a sales agent for Malone. But with the assistance of Charles J. Walker, a newspaper publisher she met and married in Colorado, the woman we now know as Madam C.J. Walker soon struck out on her own. Her husband helped with marketing ideas that led her to open a mail-order sales business, along with a beauty parlor and training school in Pittsburgh.
With her new business thriving, the entrepreneur moved to Indianapolis in 1910 and opened a manufacturing operation. The facility was needed to meet the demand for her products, which, at the business's peak, were sold by more than 15,000 sales agents across the U.S. and in several foreign countries. She also opened a chain of beauty colleges.
It was in Indianapolis where Walker began to leverage her business success and money to improve the lives of others and fight discrimination. She provided jobs for Black women when opportunities other than farm labor and menial housework were scarce. She campaigned against the lynchings of Blacks and donated to Historiclly Black Colleges and Universities. She gave money to help save the Washington, D.C., home of abolitionist Frederick Douglass and to establish the first YMCA for Blacks. And she did it all before women in America – Black or White – even had the right to vote.