Toyota breaks ground in Plano
JESSICA NGBOR | 2/9/2015, 7:55 a.m.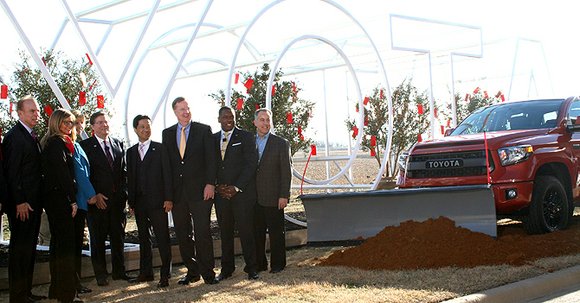 The Dallas Examiner
Last month, Toyota held a groundbreaking ceremony on the site of its future North America headquarters uniting branches from California, Kentucky and New York.
"I love the friendly, out-going nature of people in the Dallas-Plano area. I'm looking forward to greater collaboration with all of our team members being in a new location and an exciting new headquarter building with an open office design," said Julie A. Hamp, group vice president, chief communications officer.
Toyota is no stranger to the state of Texas. It has a Gulf State Toyota distribution center in Houston and a manufacturing plant that was built in San Antonio back in 2003 where former Gov. Rick Perry was in attendance for its groundbreaking event.
"I can tell you, he was instrumental with helping to bring our future North America headquarters right here to Plano, Texas," said Jim Lentz, Toyota Motor North America chief executive officer.
With the thought, "everything is bigger in Texas," instead of using the conventional shovel to do the honors of the groundbreaking, Toyota decided to use its 2015 TRD Pro Series Tundra to plow over soil.
The 100-acre site is located at Palomino Crossing between Headquarters Drive and Route 121, neighboring other major corporation headquarters such as Frito Lay and JCPenney. It will have a tree prevention plan that will save 100 percent of the protected trees as well as reclaimed water for irrigation. It is expected to be completed in 2016 and create approximately 4,000 jobs.
"Our goal is to build an environmentally-sustainable campus that our neighbors will welcome and our team members and associates will be proud to call home," Lentz said.
The site will have six Texas native yaupon holly trees planted during last phrase of construction as a symbol of friendship with the city of Plano. The trees contain notes that have wishes, hopes and dreams for the future of Plano ISD students. The notes will later be removed from the trees and put in a time capsule at the headquarters as a keepsake.
Toyota is a Japanese-owned multinational corporation and one of the top automaking brands in the industry. The company's global vision aims to lead the way to the future of mobility and enrich lives around the world with the safest and most responsible ways of moving people.
"We all from our city and our community are so honored to be part of this groundbreaking today," said Harry LaRosiliere, city of Plano Mayor. "We realize that this is a continuation of the vision."