High school seniors left over $34 million on the table in 2014
Special to The Dallas Examiner | 2/16/2015, 8:45 a.m.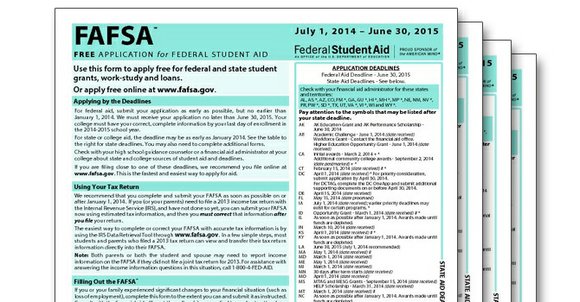 Special to The Dallas Examiner
Last year, more than half of Dallas County seniors failed to fill out Free Application for Federal Student Aid and Texas Application for State Financial Aid and missed out on more than $34 million in grants.
Education beyond high school is becoming more important in today's workforce, and the perceived inability to pay for college is a barrier to students pursuing their dreams. Within the next five years, 60 percent of jobs in the United States will require postsecondary credentials.
Exit surveys show that many of our local students don't understand the application process used by nearly all colleges and universities to determine financial aid eligibility. By not filing a FAFSA, students have no way of knowing how much college will really cost them and no access to state or federal aid to support them.
Low-income and minority students are the most affected by the lack of awareness about determining financial aid eligibility. Approximately 6,000 Dallas County high school seniors would be eligible for Pell Grants if they just filed a FAFSA form.
Dallas-area civic leaders, nonprofit organizations, local school districts and institutions of higher education will join forces, through the Commit Partnership, in an unprecedented manner to support high school seniors filling out the FAFSA or TASFA.
Volunteers from North Texas-area institutions of higher education, businesses and community organizations will help high school seniors and their families complete financial aid forms at six workshops.
"We are excited that this initiative to help local high school seniors fill out financial aid documents is a community-wide effort," said Sarah Jensen, deputy director of College Access at Commit! "Trained volunteers will help families and answer questions in English and Spanish."
The first workshop took place on Tuesday at the University of North Texas – Dallas. Other workshops will take place from 9 a.m. to 2 p.m. during the last two Saturdays of February.
Feb. 21 workshops
Bryan Adams High School, 2101 Millmar Drive
Richardson High School, 1250 West Belt Line Road
Molina High School, 2355 Duncanville Road
Feb. 28 workshops
Adamson High School, 201 East Ninth Street
Dallas Public Library, 1515 Young Street
To complete the application at workshops, families need to bring their most recent federal tax return, records of untaxed income, bank statements and records of investment, social security number, driver's license and alien registration number.
More information is available at http://www.youcanaffordcollege.org.