Black Republicans Making History
Black Republicans not expected to be a plus for community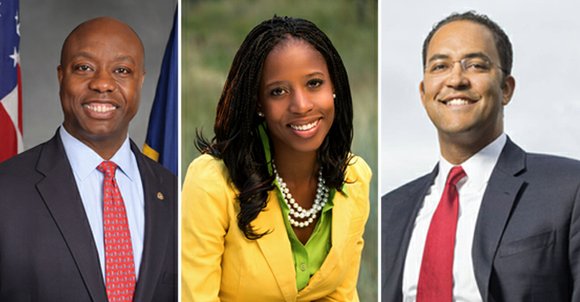 WASHINGTON – Black Republicans made history during the midterm elections in November by winning in Texas, South Carolina and Utah, but political analysts wonder if the victories will have any long-term impact on the future of the GOP in the Black community.
Traditionally, Black candidates running for elected offices not only need a large Black turnout, but also a majority of the Black vote to win statewide and national races.
Sen. Tim Scott made history by becoming the first Black Republican elected to serve in both the United States House of Representatives and the United States Senate. He won with just 10 percent of the Black vote and 82 percent of the White vote, according to exit polls.
Representative-elect Will Hurd beat his Democratic challenger Pete Gallego in Texas by a narrow 2.1 percent margin in a predominately Hispanic congressional district – House District 23 – to become the first Black Republican from Texas elected to the United States Congress since Reconstruction.
When the next congressional term begins, Mia Love, a Black Mormon and daughter of Haitian immigrants, will represent Utah's 4th House district in a state where Blacks account for just 1.3 percent of the total population.
Lorenzo Morris, a political science professor at Howard University in Washington, D.C., said that the Black community shouldn't expect much from the Black Republicans during the next legislative session, because they won largely without Black voters. In addition, he said, their rank as freshmen lawmakers will limit their influence within the party.
"Their collective impact, if they are really outspoken, will just be on the plus side of zero, barely zero," Morris said. "The obvious impact for Republicans is positive only to the extent that it shows visually, if not substantively, an outreach to minorities."
Scott earned an "F" on the NAACP's legislative report card during the first session of the 113th Congress from January 2013 through Dec. 26, 2013.
ThinkProgress.org reported that Scott proposed a bill in 2011 to block families from receiving food stamp benefits if one of the adults in the home joined a strike, and as a state legislative member, Scott supported cuts to South Carolina's HIV/AIDS budget.
In a 2012 speech, Love accused President Barack Obama of "pitting us against each other based on our income level, gender and social status" and said that, "His policies have failed." Love has also pledged to take the Congressional Black Caucus "apart from the inside out."
If they continue to express views counter to those held by the Black electorate that overwhelmingly supported Obama with more than 90 percent of their votes in back-to-back elections, Morris said, their presence could actually hurt that visual image of minority outreach, because it will further distance the GOP from the politics that are overwhelmingly characteristic of Black voters.
Raynard Jackson, a Republican strategist and the president and CEO of Raynard Jackson and Associates, called Love, "the embodiment of the American dream" and said that her journey as a first generation Haitian immigrant to become the first Black Republican female ever elected to the U.S. House of Representatives is amazing.