Black Republicans Making History
Black Republicans not expected to be a plus for community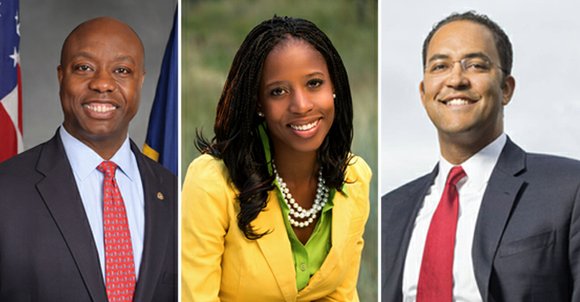 "It doesn't matter what her politics are or what her party affiliation is, if Love's story doesn't inspire you, then there is something wrong with you as an American citizen," Jackson said.
Former congressman Allen West, R-Fla., said that the Republican Party has to remind Black voters that the conservative principles and values of the GOP are quite consistent with the history of the Black community.
"When you go back and read Booker T. Washington's writings at the turn of the century, his remedy for the Black community under the stress and strain of segregation and Jim Crow laws were three points: education, entrepreneurship and self-reliance," West said. "When you look at each one of those individuals, Sen. Tim Scott, Reps.-elect Mia Love and Will Hurd, that's what they represent, and those are the three things we must have conversations about in the Black community."
West compared the overwhelming loyalty that Black voters have for the Democratic Party to an investor that puts all of his eggs in one basket. Just like an investor shouldn't put all of his money in one fund or one venture, West said, Black voters should also diversify their political capital.
"The people in these majority-minority districts are going to have to look up and say, 'Why are we still in this situation? Why do we continue to elect the same person and nothing is getting any better?'" West said.
Morris said that if a Black Republican wanted to sway Black voters in any significant way, the candidate would have to talk about social policies and programs in ways that are open and address issues such as income inequality similar to the way a moderate Democrat would. In short: The candidate would have to be a liberal Republican.
"It would take a miracle for a Black Republican to win a majority Black district," Morris said.
Still Jackson said that the additions of Scott, Hurd and Love will help the party, if they are properly utilized.
Jackson used a basketball analogy to describe how the Republican Party can continue to win with candidates like Scott, Love and Hurd.
"You have to understand the strengths and the weaknesses of each player and you have to know when to put them in the game and when to sit them down," Jackson said. "You have to understand when to bring a Tim Scott, a Mia Love, a Will Hurd in to speak. You can't send them everywhere. You have to understand what their message is to best utilize them. That's what has to be done.
"Just because they're Black, doesn't mean you throw them out there to a Black audience."