Minority-owned businesses still underrepresented in state procurement
NICOLE JAMES SCOTT | 1/9/2015, 9:54 a.m.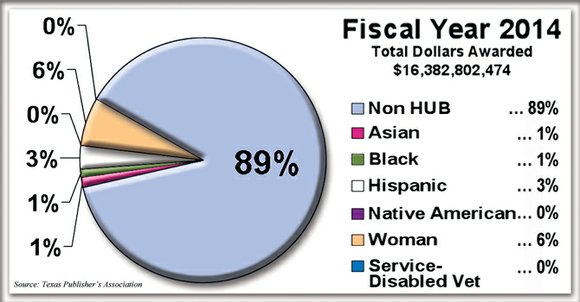 After conducting a disparity study in 2009, the Texas Comptroller's office concluded special programs to secure procurement for Historically Underutilized Businesses are still necessary. It went on to affirm its commitment to ensure state agencies make a concerted effort to utilize HUBs for contracts in construction, professional and consulting services and commodities purchases. All state agencies, medical and health facilities, and institutions of higher learning were included in the study.
The following primary points highlighted in the study to confirm disparity were as such:
• Statistical disparities by race, ethnicity and gender classification in current HUB utilization, particularly in prime contracting.
• Statistical disparities by race, ethnicity and gender classification in the private marketplace, particularly in the area of utilization of women and minority-owned firms in commercial construction.
• Statistical disparities in firm earnings by race, ethnicity and gender classification, even after controlling for capacity-related factors.
• Anecdotal testimony of disparate treatment as presented by business owners in interviews, surveys, public hearings and focus groups.
The more than 200 state agencies and institutions of higher education have a cumulative multi-billion dollar annual budget. A great source of that revenue is generated from 60 different taxes and fees. Taxes and fees such as property tax, sales tax, cigarette, tax, alcohol tax, hotel tax, and various motor vehicle taxes that all citizens of the state pay. For the fiscal year of 2013, the comptroller's office collected close to $48 billion in taxes alone. So what is the connection and what does this have to do with state agencies? If you drive a car, buy alcohol, smoke cigarettes, own property or patronize hotels, then you are contributing to that whopping $48 billion the state collects to fund various state agencies such as the Department of Transportation, and Public Utility Commission and institutions like Sam Houston State, Texas A&M and University of Texas just to name a few.
In essence, these agencies and institutions belong to the communities and should in kind serve those communities. So when the Department of Health and Human Services advertises in the medical journals and fails to do so in African American newspapers, it is a great disservice. It is the Black Press that is the pipeline of communication into the African American community where the prevalence of diseases such as diabetes and strokes are twice that of Whites. African Americans have the highest age-adjusted heart disease death rate and African Americans have the highest hospitalization rate of all ethnicities. In the interest of serving the African American community the Department of Health and Human Services is remiss in bypassing Black newspapers.
But it's not just the Black Press that is underrepresented when it comes to state procurement and contracting. According to the 2014 annual HUB report, $15,113,071,094 was awarded to non-HUBs, compared to $2,060,862,969 awarded to HUBs. Asian Pacific, Black, Hispanic, Native American, woman-owned and service-disabled veterans constitute HUBs.
All state agencies and institutions are required to keep annual reporting of their expenditures. There is a special report generated specifically to detail how much funding and bids are awarded to HUBs. Just to provide a few examples of the inequality that exists, the University of Texas Health and Science Center's 2013 report listed 42 out of 559 bids/proposals that were awarded to HUBs, 25 of which went to women. In fiscal year 2013, the Department of Transportation contracted a paltry 4.82 percent of its construction contracts with HUBs. The same year, the Public Utility Commission awarded 250 contracts of which 90 went to HUBs. Of those 90, 26 went to Asian males, two African American males, seven Hispanic males, one Hispanic female and one Native American male. The remaining 53 were awarded to women. The Alcoholic Beverage Commission awarded 1,600 contracts. The breakdown of those contracts were as follows: one Asian male, one Asian female, six African American males, 49 Hispanic males, one Hispanic female, two Native American males and 246 women. These are just four examples but the pattern is consistent among the majority of agencies and institutions. Moreover, most often many of the contracts that are awarded primarily go to women who are neither Asian, African American, Hispanic or members of any ethnic group.
The issue at hand is not about set asides, diversity or even affirmative action; albeit groups that have been historically excluded should receive special consideration. However, HUBs contribute and put into the collective pot, so to speak, just as much as other businesses. Any procurement HUBs receive from state agencies are not only deserved but also earned. We are not talking about handouts or charitable contributions. In viewing the above chart, suffice it to say HUBs are clearly not receiving their fair slice of the pie. Not by a long shot.