Life lessons: Reel-ality television talk
MARQUESA LaDAWN | 1/19/2015, 8:09 a.m.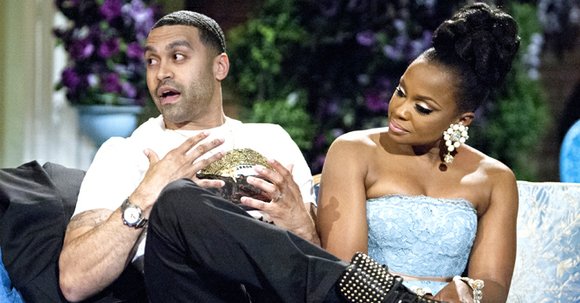 (NNPA) – The Real Housewives of Atlanta – (Is your house really a home?) The law seems to be busy in the reality television world and the RHOA is no exception. Apollo Nida, a house husband to Phaedra Parks, was sentenced to eight years in prison, making this his second time behind bars for a long amount of time. He's a good-looking, smooth-talking bad boy, who seems to be challenged with doing the right thing. In an ironic situation, his wife, soon to be ex-wife, calls herself a Southern belle. You know that Parks' pattern is sharing as little as possible and appearing to be perfect. It doesn't help that her husband, now in prison, hurt her reputation from the moment he was introduced, then continued to make bad decisions, including flirting with other women. On top of all of this, his favorite line was
"Nobody can control me or tell me what to do or how to act." I think he forgot the law. Of course, Parks is not completely blameless, she's a smart woman that pretends to miss things, like money being spent by her husband, etc.
The Real Housewives of Atlanta – (Being a mother does not give you a pass …) Oh my goodness, where do I begin, they call her Mama Joyce and boy did she pull the wool over our eyes during the early seasons. Well, all was revealed, and Mama Joyce is the meanest mom on the planet. She's like a gangsta mom, literally, she threatens to fight even when she clearly starts the argument. She lies like she breathes, she feels that when it comes to her daughter Kandi, she can do anything she wants – and she does. I remember watching Kandi's beautiful wedding, and when the cameras focused on her frown-faced mother, several of Kandi's guests had this look of distaste all over their faces. It was really sad. She is talked about so terribly all over social media, I feel so bad for Kandi. But she is a major enabler and although I understand the need to protect your mom no matter what, it's important that you ask your mother to respect others.
The Real Housewives of Atlanta – (We all have a limit) Do you remember the big fight during the reunion when Porsha Williams pulled Kenya Moore's hair? It was a big moment for RHOA and sealed in their first-place popularity. Moore is something else, a truly mixed-up lady. She's always the victim, though her behavior encourages a lot of what happens in her life. Well, this reunion was no different: She insulted, put objects in people's faces, and thought there was no limit. Little did she know, it's a bad idea to push a recent divorcée with mean words. She learned this hard lesson once Williams reacted by pushing her down and pulling her hair (thank goodness it's real).
The Real Housewives of New Jersey – (Personal accountability) Even if you do not watch reality television, you could not have missed this story; I'll tell you the quick version, Teresa and her husband, Joe Guidice, are two heavy hitters on the RHONJ, and they got caught with their hands in the cookie jar. Personal accountability is a foreign concept to this couple, especially Teresa; nothing is ever her fault. She lives in excuses land. Well, she got away with it for a long time, but all good things must come to an end. Regardless of what you and I believe, they pleaded guilty on multiple counts of fraud and got 15 months (Teresa) and 41 months (Joe) in prison. The lesson: Deal with your issues before the law gets involved and you lose all control!