Black state legislators: 'Preparing Our Nation's Leaders'
DIANE XAVIER | 1/20/2015, 11:53 a.m.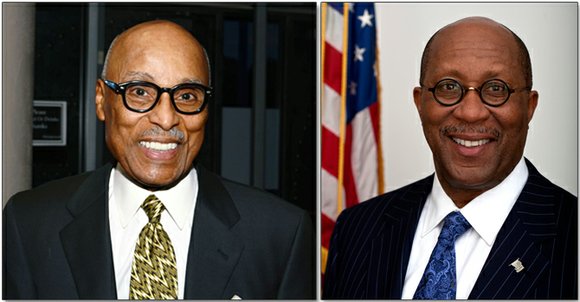 The Dallas Examiner
Protecting unarmed Black men from police brutality and increasing the minimum wage were the main topics of discussion at the 38th annual National Black Caucus of State Legislators Conference held at the Hilton Anatole from Dec. 10 through Dec. 13.
"We need to see some policy changes in this country," Sen. Royce West said. "I think using fact finders when you have troubled issues concerning police shootings and fact finders have the latest technology available and that's going to be body cameras. I don't think people appreciate body cameras, which provides additional evidence of what took place during the transaction. Having body cameras is good but you got to make sure you have police policy when you turn on and off the body cameras. The big question is, 'How do you fund it?' In the state of Texas, we have about 67,000 police officers. So if you think those cameras are going to cost $1500 each, it's going to cost more than $75 million. Also, we need to look at whether we need to have special prosecutors to present cases to the grand jury when you have police shootings."
With the theme: "Preparing Our Nation's Leaders," over 250 members participated in the conference, hosted by DFW political leaders West and Rep. Helen Giddings.
"We have legislators from all over the country and it is important for us to come together to form a common agenda to work on issues that affect all of our constituents," Giddings said. "The problem that we are facing is epidemic, the killing of unarmed young Black men. We have to change the culture and to make sure that everybody understands that every life has value."
West said he and Giddings were delighted to host this year's conference in Dallas.
"Having this conference in Dallas, we are able to show our colleagues around the country some Texas hospitality and I think if you talk to the members, I know that they will tell you that this is one of the best conferences that they have been to," West expressed.
The conference concluded on Dec. 13 with the 2014 David S. Holmes annual awards and the David P. Richardson Jr. Nation Builder Awards. Keynote speakers were Dr. Frederick D. Haynes III, Sheryl Lee Ralph, Cynthia Marshall, former D.A. Craig Watkins, Tom Joyner and Rickey Smiley.
Philanthropists, business and community leaders were honored for their dedication to their community.
Rep. Gilda Cobb Hunter of South Carolina received the NBCSL Lifetime Achievement Award.
National recipients for the David P. Richardson Jr. Nation Builder Awards included Joyner, U.S. Ambassador Ron Kirk, hip-hop icon Lana "MC Lyte" Moorer, the National Association of Black Journalists, Philanthropists Patricia and Emmitt Smith, Civil Rights and Education Trailblazer, Tennessee state recipient Theotis Robinson Jr., Texas state recipient Wilhelmina Delco and St. Luke Community United Methodist Church pastor, Dr. Zan Wesley Holmes Jr.
"I do not take this honor lightly," Lyte told the crowd. "I will say, thank you for having the patience with me to become the woman that I have become. Never stop speaking to us because every word that is spoken matters one-way or the other. As hip-hop sisters, helping to further another's education is most important to me because when you are educated, you have options and that is one's ticket to the future."
Kirk also thanked the crowd and stressed the importance of finding justice for the unarmed Black men that have been harmed by police.
"I am pleased to accept this award in honor of all the first Black mayors of the Dallas area," Kirk said. "I am humbled to stand here because I am a former mayor of Dallas, but I also stand here because of Jim Crow. Our fight for justice and inclusion is not over. For all the people in this room today, you are able to take a breath and you need to use that breath to speak up for justice and equality. We need to speak up particularly for our young Black men."