General Motors highlights diversity at auto show
1/21/2015, 6:33 p.m.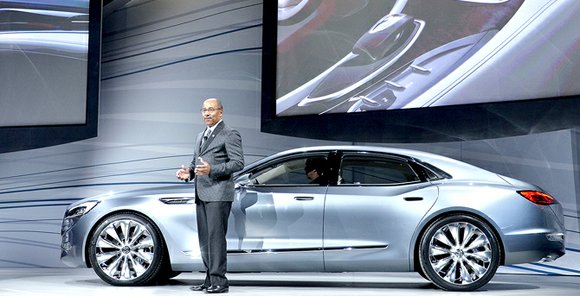 DETROIT – During the media week leading up to the 2015 North American International Auto Show, General Motors not only revealed new models and concept cars like other automakers, they also showcased the importance of diversity in the company's ranks.
At "Design by Detroit," an event hosted by GM that featured local artists, industry insiders and a custom-painted Stingray, three young, minority designers shared their experiences working for the embattled, century-old auto company.
Ven Lai, the lead creative designer for the Chevrolet Color and Trim Studio, said that after joining GM in 2007, she learned that the company appreciated passion for design and that when artists from different cultures and backgrounds lend their input to the process, the car, the customer and the brand benefit.
Crystal Windham, the first African American female design director at GM, currently leads the Chevrolet Passenger Car & Small Crossover Interiors department. Windham's work was featured in the 2014 Chevrolet Impala and the all-new electric hybrid Chevrolet Volt.
"As designers, we've been empowered," said Windham in her official press bio. "There is an exciting renaissance at GM and I am thrilled to be a part of it."
Martin Davis, the design manager for the exterior lighting and North American exterior design, said that Windham has already left her mark on the interior design of Chevrolet passenger cars and that consumers will see even more of her influence on that segment very shortly as new products are rolled out.
Davis, who led the team that redesigned the exterior lighting for the new Cadillac Escalade, said that working on the iconic sports utility vehicle was humbling and surreal.
"But you quickly get past that and embrace the challenge," said Davis, who started his career with GM when he was 22 years old. "Working with new technologies like [light emitting diodes] enables us to do a number of things we haven't done before."
Davis continued: "There's always that risk of being able to deliver on a design that you have sold to senior leadership and they are expecting your design to work."
Ed Welburn, vice president of Global Design and General Motors, said that he still loves the look on a designer's face when their concept is selected for a new project.
"I don't care if they're right out of school or if they've been with the company 40 years," Welburn smiled. "They have that look on their face like they're 8 years old."
Welburn, who studied sculpture and design at Howard University and joined the automaker when President Richard Nixon was still in the White House, is the first executive to lead all of the company's Global Design Centers in the United States, Germany, Korea, China, Australia, Brazil and India. The GM veteran said that he enjoyed knitting together a global team of studios, where everyone really knows and supports one another.
"It helps us understand our customers a whole lot better. Everyone brings some creative thought to the process that may be a bit unique in one way or another," Welburn said. "I think we really benefit from that."