American Legion helps veterans in the community
JESSICA NGBOR | 1/26/2015, 11:41 a.m.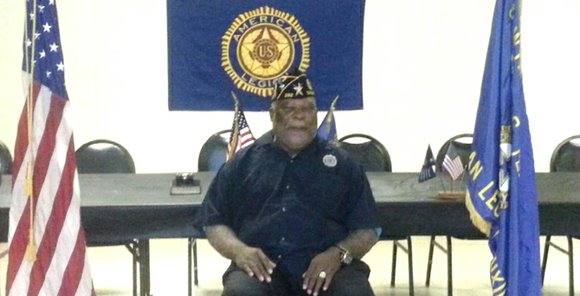 The Dallas Examiner
Devoted to helping those who have fought selflessly to protect the United States and its allies, the American Legion is the largest wartime veteran non-profit organization.
Chartered in 1919, the organization has posts all over the country, including 100 posts in Dallas – its fifth district.
"Once I studied what they were all about and all the good things they are doing for vets, I became a part of it," said Commander W.S. "Big T" Turner of Post 292, located at 4442 S. Marsalis Ave.
Turner has been a member for five years now. He is a vet and served from 1966 to 1974 during the Vietnam War. His father was also a member of the legion.
The organization strives to alleviate problems for vets by helping them get their benefits, proper treatment, medication and donating to various charities and hospitals that serve vets.
For Christmas, it made efforts to donate 250 pairs of socks to the Department of Veteran Affairs and 200 pairs to nursing homes where some vets are located. The American Legion does not only help vets, it also empowers the community as well. During Thanksgiving, families in need were served a holiday meal.
The Legion also has a mission to help support the next generation. In August, it donated backpacks and school supplies to the community. It works heavily with South Oak Cliff High School and also sponsors young men in ROTC to attend a seminar in Austin that promotes Americanism. Youth who are interested in politics can find out how to become congressman or city council members.
"We are just trying to make sure we are doing things for vets and the people in the community," Turner said.
This year, it has many projects in progress for the community. It hosted a Martin Luther King Day program this month, and will host a Black History month celebration in February, as well as American Legions Day in March and Flag Day in June. It will also hold a community health program that will promote awareness of health risks that affect the community, offer blood pressure checks, and prostate education and screenings.
Furthermore, it hosts an annual golf tournament to help fund scholarships that will be awarded at the end of each school year. Scholarships are awarded to students who are members of ROTC or recommended by their principle or counselor. The students will be required to write an essay and have good grades.
The members of Post 292 meet every second Saturday at 11:30 a.m. For more information about the Legion, call 214-372-5521.