Today's activists: Heirs of Civil Rights Movement
BARRINGTON M. SALMON | 1/26/2015, 11:39 a.m.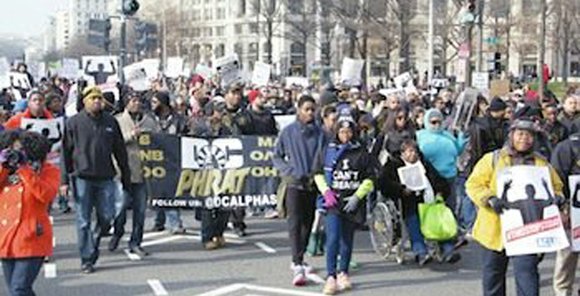 (NNPA) – In the months following Trayvon Martin's shooting death at the hands of vigilante George Zimmerman in February 2012, a common question demonstrators asked was if the nationwide marches and fiery protests would be a moment or a movement.
The 17-year-old's death in Sanford, Florida, crystallized in a lot of young people's minds that Black and Brown people were not living in a post-racial paradise and that more hidden, institutional racism, structural inequity and discrimination hadn't disappeared but merely assumed a different, less overt role.
Shortly after Trayvon's death, Los Angeles-based artist, organizer and activist Patrisse Cullors joined with fellow activists Alicia Garza and Opal Tometi to create Black Lives Matter, which moved from a hashtag to a concept embraced by activists in the U.S. and around the world.
As Garza explained in a recent article, Black Lives Matter was "a call to action for Black people after Trayvon was posthumously placed on trial for his own murder and the killer, George Zimmerman, was not held accountable for the crime he committed. It was a response to the anti-Black racism that permeates our society and also, unfortunately, our movements."
"Black Lives Matter," she continued, "is an ideological and political intervention in a world where black lives are systematically and intentionally targeted for demise. It is an affirmation of Black folks' contributions to this society, our humanity and our resilience in the face of deadly oppression."
Cullors, 31, executive director of Dignity and Power Now, a group that fights for the rights of people in prison, said Michael Brown's death at the hands of former Ferguson, Missouri, police Officer Darren Wilson in August pushed her and other activists from around the nation to answer with direct action.
"We pretty much took it to the street," she said during a recent interview. "We took it to Hollywood, shut down the I-10 freeway, and marched to Beverly Hills and Rodeo Drive last year. We've used it ever since."
In Ferguson, protesters held vigils and marches and engaged in other forms of civil disobedience to express their outrage that eyewitnesses said Brown, 18, and, like Martin, unarmed, had his hands up when he was shot seven times by Wilson, that his body lay in the street for 4.5 hours and that a Ferguson grand jury eventually cleared Wilson of any wrongdoing.
Cullors said she traveled to Ferguson, and over the course of 104 days of daily protests, she marched with residents, worked with leaders, organizers and residents of Ferguson and St. Louis and helped leaders develop tactics for their movement.
"We are a call to action to end state-sanctioned violence against Blacks. It's significant because it's a new Black power call, saying, stating and declaring that we no longer accept the status quo and that this is a broader fight for black lives.
"Everyone is focused, angry and clear about the justice that they seek. There will be victory. Even if Wilson [had been] indicted, it's a larger problem, a problem of St. Louis and the American government."