Pastors on mission to 'Save Our Sons'
DENISE JOHNSON STOVALL | 1/30/2015, 5:52 p.m.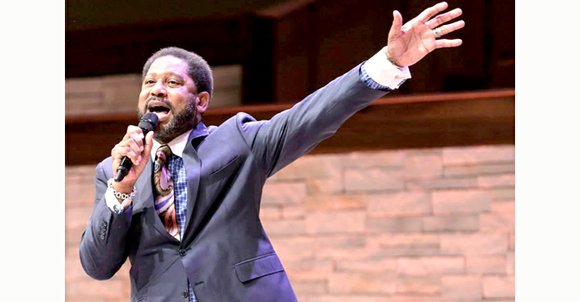 The Dallas Examiner
Today there is an urgent need to save our sons, stressed the African American Pastors Coalition during its annual Martin Luther King Jr. holiday celebration, held at Concord Church on Jan. 19.
Themed "Save Our Sons," it was a call to action for the Dallas/Fort Worth clergy community to increase and coordinate efforts to reclaim and restore the young men of the African American community. Members of AAPC, the largest interdenominational ministerial alliance of color in North Texas, recommitted themselves to mentoring and coaching young men in the community.
The program featured entertainment by national Motown gospel recording artist Brian Courtney Wilson, the AAPC Unity Choir and the Barack Obama Male Leadership Academy Glee Club.
The Rev. Jeffrey A. Johnson Sr. of Indianapolis, Indiana, was the keynote speaker. A renowned preacher and author, Johnson is senior pastor of the 10,000 member Eastern Star Church. He graduated from Bishop College and is known for his passion and commitment to empowering young boys and men of color and single mothers.
During his message to nearly 3,000 people from throughout North Texas, Johnson said he knows exactly what it's like to grow up without a "father figure or an African American male role model."
"My papa was a rolling stone," he said, referencing a term from an R&B song, a popular golden oldie. "But my mother taught us we had a heavenly Father, although my father left my family when I was 8 years old."
Johnson is a Dad with four adult sons; one entering college, one completing college, one starting a career, and one accepting a call to go into the ministry. He said he has made sure his young men received the love they deserved from a Black father.
The celebration marked the 20th anniversary for the organization.
Mayor Mike Rawlings offered a special thanks to the AAPC for caring for the citizens of Dallas.
Under the leadership of Rev. Bryan L. Carter, senior pastor of Concord Church, the mission of the AAPC is "to unite and mobilize member pastors for prophetic ministry that results in liberating and empowering the larger community."
Carter stated that, along with mentoring, AAPC's other priorities would be education, economic development, criminal justice and political engagement.
The organization also provides proactive leadership in the awareness of affordable health care, voter mobilization and elected official accountability.
The vision of the AAPC, "as a timeless model of ministry, demonstrates Christ's relevance in the world by networking diverse ministries to affect change."
Several hundred students from Dallas County schools were in attendance. Schools recognized by the AAPC for academic excellence received $500. Those schools were:
• Kennemer Middle School
• A.W. Brown Fellowship Leadership Academy
• Barack Obama Male Leadership Academy
• Elsie Robertson Middle School
• Bishop Dunne High School
One young man representing the Obama Academy spoke about what it means to be a child of God accepting his call to be the best he can be.
"We as African American young men must attain what is noble and accept our Lord and Savior Jesus Christ," Dalton Sherman told the congregation. Sherman is also a member of the Concord.