Remembering King by candlelight
JESSICA NGBOR | 1/30/2015, 5:57 p.m. | Updated on 1/30/2015, 5:58 p.m.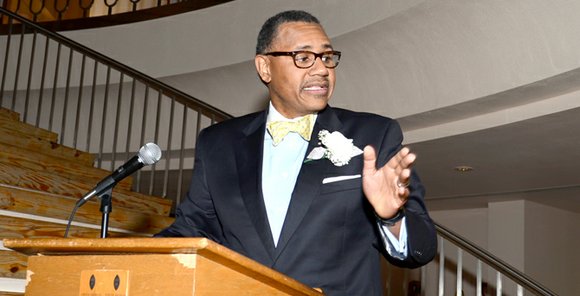 The Dallas Examiner
The 30th annual Dr. Martin Luther King Jr. Candlelight Service took place on Jan. 16 at the Martin Luther King Jr. Community Center in remembrance of King's legacy. The Alpha Sigma Lambda Chapter of Alpha Phi Alpha Fraternity hosts the event every year to ensure that King's message will never be forgotten. King was also a member of this fraternity.
"We needed to give something back to the community that was free for all ages," said APA chairman Craig Anderson.
The ceremony first began when a member of the board of directors from the community center, who was also a member of the fraternity, wanted a statue in honor of MLK made in Dallas. After approval from the National Center for Civil and Human Rights in Atlanta the statue was built. Originally, members of the fraternity as well as local Dallas residents would gather around the statue and share words of reflection. After having such a great turn out, the ceremony decided to expand by adding a keynote speaker and getting students from local Dallas schools involved by having an essay contest, followed by the actual lighting of the candle ceremony. A writing topic is distributed through all Dallas schools. During the ceremony, the student recited his/her winning essay. Because they wanted to have a person come share a practical message during the program, a keynote speaker was added in the hopes of having the message resonate among the crowd.
"The biggest problem is that we don't have knowledge of who we are as people." Anderson said.
This year, the keynote speaker was Dr. Michael Bowie, who spoke about the issues that African Americans face today such as police brutality. With the recent events involving police brutality, they felt the need to discuss the issue was urgent. The discussion replaced the essay portion this year.
He challenged the young people not to solely chase money, but to follow their dreams and become a person of meaning.
"Significance is rooted in making meaning," he explained. "While success is driven by making money. Meaning will become the fuel that will drive you to achieve your dreams. It's not about money, it's all about meaning."
He also shed light on how far African Americans have come with Dallas having the highest elected female judges. He then encouraged everyone to stop being complacent with the conditions that they are living, but instead, speak out to make a difference.
"Dear friends tonight, we must continue to speak out and be the voice for the voiceless. Tonight we must continue to be that voice and speak out for the countless number of children who will go to bed hungry tonight. Tonight we must speak out for those 5,000 plus people who will go to bed without a roof over their head that are homeless right here in Dallas, Texas. Tonight we must speak out for those who are bullied and mistreated because of their sexual orientation. It's time to speak out," Bowie exclaimed.
"We've come a mighty long way, but we still have a mighty long way to go."