The Black Church and the strength to forgive
JAZELLE HUNT | 7/6/2015, 8:19 a.m.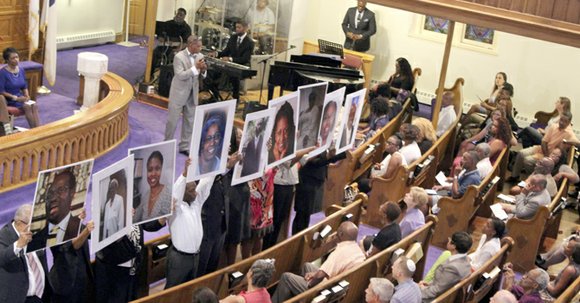 WASHINGTON (NNPA) – For many outside the Black community, they had never seen anything like it. Though suffering and deep in pain from the loss of loved ones at the hands of Dylann Roof at Emanuel A.M.E. Church in Charleston, South Carolina, they reflected the finest reflection of Christian values.
A daughter of Ethel Lance, 70, one of the nine killed at Bible study, struggled to find the right words.
"I will never be able to hold her again. But I forgive you and have mercy on your soul," she said, her voice trembling with emotion. "It hurts me, it hurts a lot of people, but God forgive you and I forgive you."
Speaking for her family, a sister of Rev. DePayne Middleton-Doctor, 49, had a similar message.
"We have no room for hate," she said softly. "We have to forgive. I pray God on your soul. And I also thank God that I won't be around when your judgment day comes with him."
One-by-one, they took turns sharing their grief, but not any rancor. How could they be so forgiving?
In order to understand the answer to that question, experts on religion say, you have to understand the role the church plays in Black America and how the nation's most religious group, African Americans, take the teachings of Jesus literally.
"To understand the Black Christian tradition and faith that has nurtured Black people for centuries is to know that they live by a deep, resilient faith that God is on the side of justice, God is on the side of love," explained Rev. Forrest Harris, president of American Baptist College in Nashville, Tennessee, and a scholar on the Black Christian church. "And that ultimately, though people will tragically experience what we saw happen at Mother Emanuel, ultimately love will prevail and hope will prevail."
Rev. Susan K. Smith of Columbus, Ohio, said that Scripture shows that it's reasonable to feel and wrestle with difficult emotions, instead of jumping straight to forgiveness.
"If you don't deal with your real, strong feelings, it's almost impossible to get to a place where you can forgive," she said. Smith points to Psalm 13, saying, "The Psalmist, who expresses his pain then at the end of the Psalm, there's a 'but, I will praise you anyway.' This is vital, because what we have with God is a relationship, and in relationships there are always times when you don't get it."
Rev. Amos Brown, pastor of the Third Baptist Church of San Francisco and NAACP national board member, said Blacks should not bear the brunt of suffering or forgiveness in the U.S.
"I do not feel in my spirit that Blacks should have to be the sacrificial lambs all the time," he explained. "The pain is so great and it's insulting that America has still not confessed to its wrong and its evil. And that evil is racism."
Relatives of the nine slain in Charleston refused to be overcome by the evil of racism.
"In this particular context, we're all deeply moved by the family offering up forgiveness, and I want to honor that supernatural manifestation of grace," said Pastor Michael McBride, leader of The Way Christian Center in Berkeley, California, and director of the PICO Network Live Free Campaign, which uses faith to fight mass-criminalization.