'Eat Mo Greens' cultural festival
DIANE XAVIER | 7/6/2015, 8:14 a.m.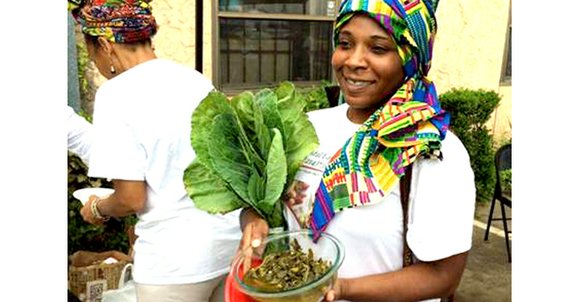 The Dallas Examiner
In an effort to encourage the African American community to eat healthier and live a more balanced lifestyle, Kwini Souleimane decided to host Dallas' first Collard Green Cultural Festival to bring awareness to the health benefits of greens during a celebration of Juneteenth and the African heritage.
Hundreds of people gathered for the festival in front of the Pan African Connection bookstore across from Fair Park Music Hall on June 20. The event offered vendors, arts, crafts, food, music, and health and wellness speakers.
"First of all, I love greens and I eat greens every day," Souleimane said. "What I hope people get out of this event is unity and family. We also want people to eat more healthy. Greens are a very vital part of our nutritional diet and in the African American culture. We have always been eating greens for years. As a part of our culture that is very important."
The theme of the festival was "Eat Mo Greens" and featured a Meanest Greens Cook-off, in which Stephanie Bruner was crowned Collard Greens Queen. Participants also had an opportunity to taste different African dishes.
"Our thing is, we need people to eat more greens to be more balanced and eat it properly," Souleimane said. "There are a lot of ways we eat it and we can eat it incorrectly if we cook it too long. What we are pushing today is health and wellness and eat more greens because greens are vital to your life."
She said she expects to continue this celebration and host this event every year.
"We decided to host this during the June 19 holiday weekend where we are celebrating the 150 year of the Emancipation Proclamation when the news arrived in Texas that slaves were free," she said. "We were really surprised about the outcome and the attention that we received. We got a big crowd and next year we expect it to be more grand."
Souleimane said she was unsure at first how the event would proceed since it was the first year Dallas had hosted this festival. Initially, she was nervous about the turnout for the event. But after talking to people throughout the community, their excitement and positive feedback was inspiring and gave her encouragement as she pressed on with event preparations.
She said that she decided to launch the festival in Dallas after seeing it done successfully in Atlanta – where they have hosted the event for six years with a large turnout.
The festival originated in East Palo Alto, California. In 1998, Dr. Mama Nobantu Ankoanda and the Board of Directors of Shule Mandela Academy held the first Collard Greens Cultural Festival to raise funds for the academy. She was inspired to hold the festival after attending a Garlic Festival.
"We never did one in Dallas and there have been people in the community that have wanted this collard green festival for years," she said. "The idea has always been with the people and we just brought it to life."