ChamberWorks: Preparing young musicians for excellence
DIANE XAVIER | 7/10/2015, 10:44 a.m.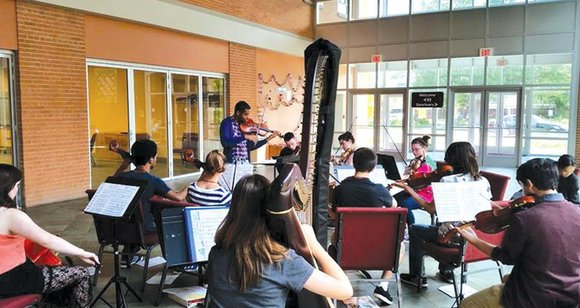 The Dallas Examiner
Classical musicians, composers and conductors of the future will have a unique opportunity during the summer break to take a more in-depth view into the world of music while perfecting their skills through ChamberWorks from Monday through July 18.
The strings-only classical music academy is held at the First United Methodist Church in Garland.
"It's a comprehensive music academy that trains students to be well-rounded performers and also art advocates," founder Marcus Pyle explained. "We do a lot of philanthropic programs and the kids take music theory, music history, ear training, chamber music orchestra and special electives. We really push the students to diversify the art's world."
Pyle said he decided to start the program to offer students opportunities to get a broader education in the music field.
"I graduated from Garland High School and there weren't really any options for summer programs like this. When I was coming through the program and even now, there aren't programs that are this comprehensive or forward thinking," he said.
The only other music institutes for students during the summer are in Fort Worth and Austin, according to Pyle.
"Those are very expensive and they are for musicians who might want to go on and become professional musicians," he said. "ChamberWorks is really about educating the person, so yes, we do have a high standard of playing but we never push the kids to become professional musicians. The skills that you learn at ChamberWorks can be used in whatever occupation you choose to pursue. It teaches leadership, listening skills, how to criticize effectively, how to manage your time and how to communicate. It teaches all these skills that are going to be useful in whatever you choose to do in the future."
Pyle officially launched the program in 2010 after graduating from the Royal Academy of Music in London. He is a violist and a doctoral candidate at the University of Southern California.
"Students don't really have anywhere where they can grow outside of school playing music instruments and there is a lot of stuff that can't be taught in the school's curriculum," Pyle said. "We are a supplement to the school district's education."
To join ChamberWorks youth do not have to attend a formal audition. However, students are required to have taken at least one year of instrumental lessons. Youth from ages 11 through 18 years old can apply online at http://www.chamberworks.info and pay a fee based on the family's income. Only 35 youth will be accepted and placed into groups based on their entrance interview.
"We want it to be a small and intimate environment," Pyle said. "The students get a really comprehensive musical education experience. The kids that have been with us for two or three years have progressed to different levels of music theory."
During the camp, students start out each day in chamber groups and are assigned a chamber coach.
"The coach really gets them to craft their best performance," he said. "At the end of camp, kids are teaching themselves and the coach becomes a mentor."
The workshop ends with a grand finale concert and benefit gala on July 16 at 7 p.m. at the Faye Briggs Mansion on Desco Drive.
"The feedback from local music teachers commenting on the students' progress assures us that we are indeed fostering and strengthening classical music's future," Pyle said.
He believes that this camp gives students opportunities they might not otherwise have. He said this year four of his students were named outstanding musicians at their respective schools.
"I don't think that is a coincidence. ChamberWorks really prepares the students and gives them a leg up," Pyle said. "Last summer, we took five students to New York City to see Juilliard. We are really using the ChamberWorks model to no only create great performers and well-rounded musicians, but we are also giving students a connection."
Next year, Pyle is planning to take his students to the "Tea for Tune" London Tour, an exclusive concert series for ChamberWorks. Students will perform concerts, one of which at the academy where Pyle graduated. They will also tour museums and famous landmarks, as well as attend notable concerts.