Empire star Jussie Smollett talks about HIV/AIDS and activism in the Black community
FREDDIE ALLEN | 7/27/2015, 5:42 a.m.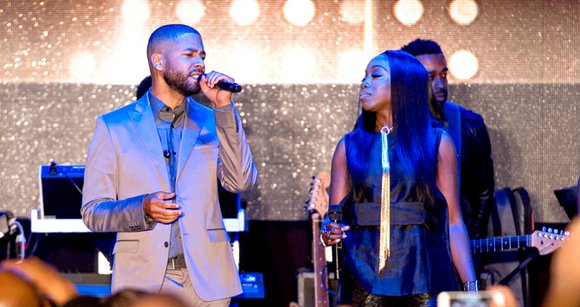 WASHINGTON (NNPA) – Before he was Jamal Lyon, the sensitive, talented gay son of drug dealer turned music mogul on the hit television show, Empire, Jussie Smollett, was a social activist.
Smollett, 31, said that the root of his activism, his ability to speak openly and honestly about sex was always his mother, because she set the tone for who he was, what he was, and what he believed in.
"My voice has always been linked to this fight before anybody knew anything about my voice," said Smollett, adding that you don't need a television show or a hit record to make a change in the world or your community.
"The work doesn't start with Empire. My mother didn't give us a choice of whether or not we wanted to be activists or not, that was built into us," he continued.
His father, Joel, emigrated from Russia and Poland. His mother, Janet, is mixture of African, Native American and European. In addition to Jussie and actress Jurnee, the couple had four other children: Jake, Jocqui, Jojo and Jazz.
All six Smollett children appeared together in the ABC television program, On Our Own, which was broadcast from 1994 to 1995. The Smollett siblings played a family reared by the oldest brother after both parents had died in a car accident.
Jurnee starred in The Great Debaters, Eve's Bayou and appeared in episodes of Cosby.
Jussie, a native of Santa Rosa, California, currently serves on the board of the Black AIDS Institute, a Los Angeles-based think tank focused solely on ending the AIDS epidemic in the Black community.
Smollett recently sat on a panel on HIV/AIDS and the role of the Black family in fighting the epidemic at the Essence Festival in New Orleans. Smollett was joined by Otis Harris, a 28-year-old gay man living with HIV from Dallas; Harris' mother, LaTongia Harris-Amadee; and Leo Moore, a clinical scholar with the Robert Wood Johnson Foundation at the University of California at Los Angeles. Award-winning journalist Soledad O'Brien moderated the panel.
According to national surveys by the Kaiser Family Foundation, 66 percent of Black Americans say HIV rarely, if ever, comes in family discussions – including 30 percent who have never talked about HIV with anyone in their family.
According to the Black AIDS Institute, more than 60 percent of parents of Black children said that "they are 'very concerned' that their son or daughter will get HIV," compared to about 20 percent of White parents.
"Families in general play such an important part in the fight against HIV and AIDS because families," Smollett said. "It's not just Black families but the family as a whole – the village. It takes that village to get rid of the stigma to get rid of the shame so that people feel like they have someone to talk to."
In 2013, the Centers for Disease Control and Prevention launched a national campaign that identified stigma and complacency as two critical challenges to ending the AIDS epidemic in the United States.