MegaFest focuses on spirituality, health and family
MIKE McGEE | 7/27/2015, 4:49 a.m.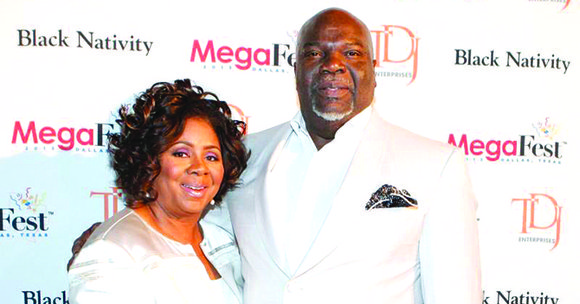 The Dallas Examiner
MegaFest, the faith-based community event presented by Bishop T.D. Jakes, will make its return to the Dallas Convention Center from Aug. 19 to Aug. 23. This year's festival will bring to the Metroplex spiritual guidance, programs on maintaining health and personal success, a golf tournament, and family-friendly entertainment.
"I don't think that there is an event in the country like MegaFest," Jakes said. "To me, we stand in a very unique category because we've got the Faith and Family Film Festival, we've got Tyler Perry doing his Medea play [Tyler Perry's Medea on the Run], we've got a barber's contest … Right at the same time, we have spiritual events like Joyce Meyer, [Boris] Kodjoe and [Nicole Ari] Parker and myself speaking. So no matter what you want to do there is something to there that I think you would entertain."

The bishop confirmed that assistance for the hearing impaired will be available and translation services for those who speak Spanish or French will also be provided.
"We've heard from 40 different countries … around the world so this is an international meeting."
The concepts of leadership, economic development and female empowerment are highlighted throughout the event website. Jakes expanded upon why he views these themes to be so vital.
"I think it's very important that we give power to every aspect of the family or you have a deficit there that is really hard to live with," he explained. "When I started 'Woman, Thou Art Loosed,' over 25 years ago we were ministering Biblical answers to emotional ills like abuse and divorce and neglect of all sorts and types and really trying to encourage people to find spiritual solutions to emotional pain."
He said the "Woman, Thou Art Loosed" program now includes empowerment for those who have faced negative issues in the past as a road for them to prepare for and find power in their future and their destinies.
"I'm really motivated about that and the opportunity to speak on it," Jakes affirmed.
Another highlight of the event are the ManPower sessions that will take place throughout the run of MegaFest. These assemblies are billed to male attendees as periods of "encouragement, practical wisdom, and the assurance of his place and purpose in the world."
"To have ministry that talks to the possibility of your particular role in life, I think it's very, very fresh and very exciting," Jakes stated. "And to link that with entertainment and that sort of thing creates an opportunity for you to spend a few days in a very holistic atmosphere being ministered to from various components."
Philanthropy is also part of the fete.
"I think it's important to always include the less fortunate," the bishop expressed. "We're partnered with St. Jude's [Children's Research Hospital] in particular this year because of the work that they do with children."
MegaFest also has the educational needs of children covered.
"The mayor is going to host part of his book bag initiative at our event as well so back-to-school is going to be a focal point. This is the last weekend in the Texas area before our kids go back to school so it gives them an opportunity, kind of refresh and refuel and go back to school, reenforcing the values that their parents are treating them at home," he continued. "Because we have a large proportion of single mothers in our community, their reinforcement is so vital and so important to our community, as well as [to] other communities."
Other nationally known guests include actor Hill Harper, entertainer MC Lyte, fitness expert Angela Davis, Charreah Jackson of Essence magazine, tech start-up founder Craig J. Lewis and celebrity chef G. Garvin. There will be a stand-up comedy show as well as a performance by the Zimbabwean choral group ZimPraise.
"It really covers the gambit so that families can come and be ministered to spiritually, health-wise, academics – I mean, just from every aspect," he said. "I'm really excited about it."