Women need P.R.A.Y.E.R.
DENISE JOHNSON STOVALL | 6/1/2015, 12:43 a.m.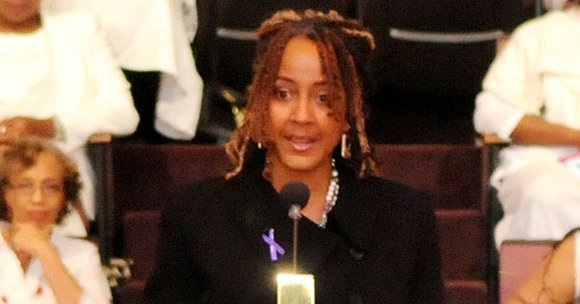 The Dallas Examiner
If you say you are a Christian, then you should be having regular, interactive conversations with God.
That was the challenge of Pastor Juanita Campbell Rasmus during Women's Day at St. Luke "Community" United Methodist Church, May 17 at 8 a.m. and 11 a.m. During the service, the congregation saluted "senior saints" as they received the Imani Circle Legacy Award. Those recipients were Willie Mae Coleman, Cordie Lee Kirkum and Evelyn Williams.
The theme for the day was "Sisters Serving Christ and Supporting One Another through P.R.A.Y.E.R." (James 5:13-16) – an acronym for Pursuing God's Presence; Responding to God's call; Affirming God's goodness; Yielding to the Holy Spirit; Experiencing God's power and mercy; and Relating to each other by showing God's love.
"Call for the elders of the church to pray," Rasmus stressed. "Pray and confess to God and one another … Open our understanding of each other and God. Sit still and take a deep breath. Inhale. Now exhale. This is prayer. Remember God breathed. His breath in you. You should thank God."
She told the parishioners to think about three points in prayer: pursue God, respond to God's call and practice prayer.
"When I married, I asked God to be involved in the marriage," Rasmus said. "So that's why I asked for a good man … Well, He gave me a great man."
An echo of "I know that's right," filled the sanctuary.
With a passion for outreach to most impoverished citizens, she and her husband, Pastor Rudy Rasmus of St. John's United Methodist Church, located in Downtown Houston. The couple have two adult daughters and a son-in-law, or as they refer to him, "son-in-love."
"We went to St. John's in 1992," she recalled during an one-on-one interview. "When we arrived, the church only had nine members. Today we have about 8,000."
The Rasmus' have experienced joy and pain while at St. John's.
There was joy when the pastors co-founded the Bread of Life Inc., a non-profit corporation, in December of 1992 and began serving dinners to the homeless in the sanctuary at St. John's. The organization has become a lighthouse of love providing an array of services to homeless men and women seven days a week in the Daybreak Community Health Facility on the campus. The efforts of the ministry facilitate mental healing and life transitions of Houston's homeless citizens through art.
But there was sadness when she suddenly became ill.
"In 1999 I experienced a major depressive episode," she explained. "I sometimes see it as compassion fatigue from working in the trenches with men and women who were often experiencing chronic hopelessness. In many ways I believe that my lack of self-care, and not knowing how to set healthy boundaries all aided my crash. While recovering from the depression I was diagnosed with tuberculosis. After a year of the chemotherapy my lung was punctured during a procedure."
She said that she is healed now and has gained insight.
"It's been a journey of learning how to live in spite of health setbacks," she continued. "I have learned so much about myself, about my faith community and their love, but most importantly as a 'good girl' in recovery I have learned so much about the unconditional love of God for me in the midst of all I have been through."