Dallas ISD plans for the future
DIANE XAVIER | 6/8/2015, 3:52 a.m.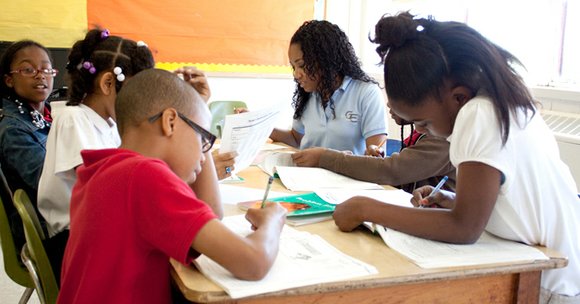 The Dallas Examiner
Officials of Dallas Independent School District held an informational public meeting to discuss its comprehensive plan for programs to help provide the best education in the nation and better facilities on May 20 at the James W. Fannin Elementary campus on Ross Avenue.
During the meeting, representatives from the district talked about a plan to rebuild and renovate schools, add programs, revitalize neighborhoods and provide the latest technologies for students to work with so they can be ahead in college and in the job market.
Andre Riley, Dallas ISD spokesperson, said the goal of the meeting was to discuss plans for improved schools in the area.
"When you think of this type of plan, we are talking about more than just one school or just a block of schools," Riley said. "This is going to impact all of our students in some way district wide."
Mike Koprowski, chief of Transformation and Innovation, led a power point presentation on how the district plans to upgrade its facilities and schools.
"This comprehensive plan is similar to what has been done in the past with the bond programs," he said. "But it is also very significantly different in some ways as well. In Spring 2013, the school board asked us as an administration to develop a comprehensive plan that marries the academic programs and facilities together and to make sure that the two are aligned. Sometimes what happens in school districts is the two processes are not aligned. The academic folks go to one end of the building and the facilities folks goes to another end of the building and do their plans and maybe they meet in the middle and maybe they don't."
After meeting with the school board, the task force developed a draft plan for the district, which would cost $1.5 billion in order to revitalize Dallas ISD in possible investments in both the facilities and programs.
"It's been seven years since our last bond," Koprowski said. "Every big urban district needs the periodic type of investment from time to time. It is now time that we seriously invest in facilities again. What's different about this time is that we are packaging the programs in there as well."
Koprowski said their motto is "Our kids, our needs."
"This is the future of our city," he said. "If you look throughout history, a skilled and educated population has never been more important to a city's success than it is today. A strong public education system enables everything that makes a city worth living in. As we grow towards a city of tomorrow, we have to make sure that our public education system does the same. We can't continue to tinker along the margins. We need dramatic change."
Plans to transform the district include its strategic plan of Destination 2020 and heavily investing in Early Childhood Education, public school choice, and career and technical education.
One year of high-quality pre-kindergarten for 4-year-olds can have a transformative effect on children through educational, social and economic means, according to the latest national research.