Dallas ISD plans for the future
DIANE XAVIER | 6/8/2015, 3:52 a.m.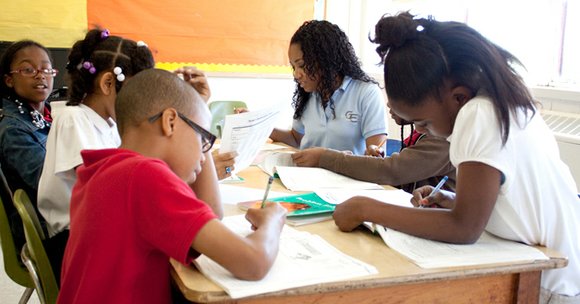 "If we are going to talk about investing in early childhood education, part of that discussion should include facilities because right now we have a 2,700 seat shortage for pre-K students that are eligible," Koprowski said. "We actually need the facilities to do all the programs that we are talking about. Same thing about public school choice, if we are talking about school choice, we need new facilities to house those choice schools. And we are going to need special facilities to house all the equipment for the career and technical fields such as welding and automotive."
Currently, Koprowski said that the district has overcrowded buildings and facilities that are in bad shape.
"We need a lot of investments which require a lot of voter support," he said. "In this plan, we first try to identify our academic needs and those programs that will help students and then develop a facilities needs to help those academic and program needs."
In September 2014, a future facilities task force was put together to address the different needs in the school district.
"This task force is made up of 27 members throughout the district and their charge is to really take this draft plan and see what makes sense and what doesn't make sense and come back with recommendations later this summer," he said.
The draft plan also calls to invest $135 million in programs and $111 million in facilities.
"We feel that this huge investment is justified when you look at the research. Research continues to show that if you do high-quality pre-K very well, there is no greater educational investment that you can make," Koprowski said. "Research also shows that a strong pre-K program has huge investments down the road for students. The poverty rate is reduced and so is the crime rate for students. We know that an early education in a child's life is critical to brain development. Eighty-five percent of a child's brain develops before age 5. Right now, only 38 percent of Dallas ISD kindergarteners are ready to start kindergarten."
Koprowski said the goal is to improve teaching and professional development when it comes to pre-K.
The draft plan also calls to heavily invest in Public School Choice where students can attend a best-fit school of their choice.
"We are talking about Dallas ISD schools," Koprowski said. "For so long, choice schools meant magnet schools. We believe that it's just not the high-scoring students that can benefit from a specialized approach, rather it is actually the kids that are furthest behind that can benefit from a specialized approach. Our goal with Public School Choice is to create more magnet-type options and the same type of rigorous academic options, and the difference is they won't have any academic entrance requirements. It will be open to all students regardless of academic ability."
Koprowski said some of these schools will be start-ups and some of them will be existing neighborhood schools that repurpose their academic model. He says the district would like to have 35 Public School Choice facilities by 2020.