Transform your outside space into a party place
Family Features | 6/8/2015, 3:07 a.m.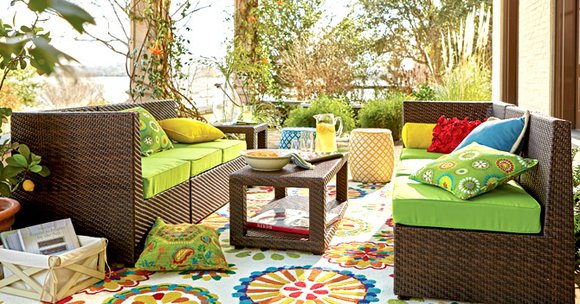 Find more tips to transform your boring backyard into a refreshing retreat at http://www.pier1.com.
Summer Entertaining
Once your beautiful outdoor space is complete, you'll undoubtedly be eager to showcase your hard work. Make entertaining a breeze with these tips from the experts at Pier 1 Imports:
– Highlight your party's main attraction – the food.
• If you're hosting the whole family for a cookout, make memories during a sit-down meal around your outdoor dining table. Freshen up the meal with dinnerware that's as eye-catching as it is durable. Easy-care melamine and fresh-hued acrylic stemware pieces let your guests enjoy without fear of shattering glasses or the festive mood.
• A less conventional approach that is perfect for drinks and small bites — serving carts. They bring action to the party, whether that's on the patio, in the garden or poolside.
– Create a one-of-a-kind tablescape.
• Combine your favorite accessories, such as handcrafted trays, detailed lanterns and a colorful bouquet, to create a cheerful centerpiece that instantly feels like summer.
• Give your party buffet a personal touch with an eclectic mix of your favorite serving dishes. Think multi-use beverage tubs, cheery cake stands, and bold chip and dip trays.
– Think about the light, both day and night.
• For a daytime pool party, protect guests from sunburn and the heat by investing in colorful umbrellas to provide a little shade — and the perfect place to sip a cold drink.
• When the sun sets, opt for a more romantic glow that lights up the night. Strategically placed lanterns in a variety of styles, shapes and colors will be the light of your party.
• For mood lighting at the touch of a button, Pier 1 Imports' outdoor LED candles resemble their melted wax counterparts but offer a bit of added magic. They're compatible with a remote control (sold separately) that allows you to set a timer with automatic shut-off.
– Gifts of Summer
If summer finds you doing more party-going than party-throwing, show your gratitude by bringing along a little something that recognizes all the work that goes into hosting a perfect party.
• Think about items that can be used at the party, such as wine charms or a citronella candle with a lantern for a practical, yet fun gift.
• Everyone loves a good party game. Pier 1 Imports' Horseshoe Game or Ladder Ball & Bean Bag Game are great hostess gift options.
• If you're attending a potluck, bring your famous dessert on a serving dish that you know the host will love and leave it behind so it can be enjoyed for parties to come.