WWI heroes posthumously awarded Medal of Honor
White House and Associated Press | 6/8/2015, 3:56 a.m.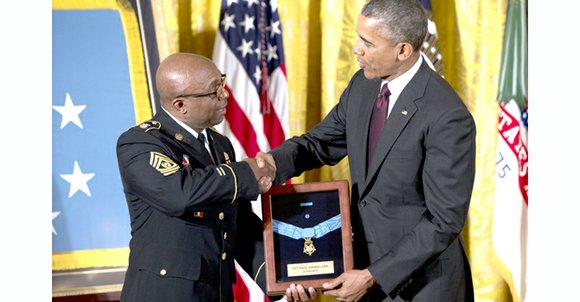 ALBANY, N.Y. – Two World War I Army heroes, one Black, one Jewish, are finally getting the Medal of Honor they may have been denied because of discrimination, nearly 100 years after bravely rescuing comrades on the battlefields of France.
"Today, America honors two of her sons who served in World War I, nearly a century ago," President Barack Obama stated. "These two soldiers were roughly the same age, dropped into the battlefields of France at roughly the same time. They both risked their own lives to save the lives of others. They both left us decades ago, before we could give them the full recognition that they deserved. But it's never too late to say thank you. Today, we present America's highest military decoration, the Medal of Honor, to Pvt. Henry Johnson and Sgt. William Shemin."
Obama awarded the nation's highest military honor for bravery to Johnson for his front-line heroics while serving in an all-Black infantry unit in France in 1918. Johnson's regiment was a New York National Guard unit called up to serve in the U.S. Army.
"At the time, our military was segregated. Most Black soldiers served in labor battalions, not combat units. But Gen. Pershing sent the 369th to fight with the French Army, which accepted them as their own. Quickly, the Hellfighters lived up to their name. And in the early hours of May 15, 1918, Henry Johnson became a legend," Obama continued, as he described the battle he and another soldier bravely fought that night.
"His battalion was in Northern France, tucked into a trench. Some slept – but he couldn't. Henry and another soldier, Needham Roberts, stood sentry along No Man's Land. In the pre-dawn, it was pitch black, and silent. And then – a click – the sound of wire cutters."
The two soldiers fought off nearly a dozen German soldiers until both soldiers sustained injuries from the battle. Roberts lost consciousness and was carried away by the enemy. With determination to rescue his comrade, Johnson reloaded his weapon but it jammed. He then began swinging his rifle to defend himself and pulled out the only weapon he had left, his Bolo knife, to defend his post until reinforcements arrived.
"As the sun rose, the scale of what happened became clear. In just a few minutes of fighting, two Americans had defeated an entire raiding party. And Henry Johnson saved his fellow soldier from being taken prisoner," Obama stated. "Henry became one of our most famous soldiers of the war … Henry was one of the first Americans to receive France's highest award for valor. But his own nation didn't award him anything – not even the Purple Heart, though he had been wounded 21 times. Nothing for his bravery, though he had saved a fellow solder at great risk to himself. His injuries left him crippled. He couldn't find work. His marriage fell apart. And in his early 30s, he passed away."
The former Albany train station porter has no known living relatives, so Command Sgt. Maj. Louis Wilson, a retired Rochester police officer who's the top enlisted soldier in the New York Army National Guard, accepted the medal on Johnson's behalf during the ceremony.