Single fathers fighting for their rights
MIKE McGEE | 6/18/2015, 7:27 a.m.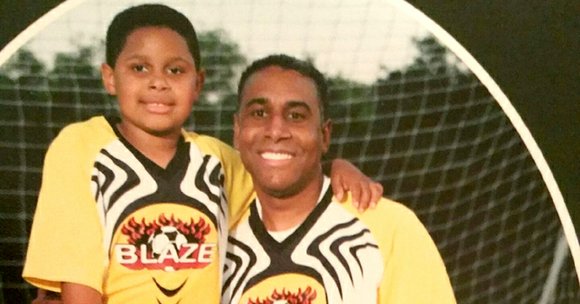 The Dallas Examiner
Stevy Greene claimed he had custody of his 11-year-old son, Omari, for about three years after the child's mother abandoned the boy and moved to California. Greene also claimed that during the time he had custody of his son he had no criminal record, remained employed and kept his son enrolled in private school. In addition, he serves as a mentor at his church for fatherless children.
However, once Omari's mother returned to Dallas, Greene said that trouble followed.
"At one point she decided to that she wanted to get custody back of our son, which was initially joint custody anyway; she just wasn't here."
After the child's mother brought her case to family court, Greene said the judge originally ruled in his favor.
"I guess my son's mother got a little upset by that so she decided to appeal it … the next court appearance we went before Andrea Plumlee. She just done a 360. Took all custody away from me and gave it to the mother – gave her custody even though she was living out of state," he complained. "So I had no right to my son, gave me one weekend out of a month; I guess I'd have to fly to California to see my son one weekend a month."
Plumlee is the judge of the 330th Family District Court.
Greene called the decision made by the judge "devastating" especially since he, too, was raised in a home without a father.
"I'm African American, okay? I know the stats in terms of our young Black males without a father." he said. "About her, being an African American judge, I'm not saying she should have shown me any type of favoritism [but] it's like – she knows these stats also."
The statistics Greene referred to are the high divorce rate in Black families and the number of children living in a home with an absentee father.
"The researchers found that 70 percent of Black women's first marriages will end in divorce, as will 47 percent of White women's marriages …" according to The Topography of the Divorce Plateau: Levels and Trends in Union Stability in the United States After 1980, a 2003 study published on http://www.Divorce360.com.
Additionally, "47 percent of Black children lived with only their mother in 1991 and about half lived with only their mother in 2009," stated a 2011 report by the U.S. Census Bureau, Living Arrangements of Children: 2009.
Although Greene ultimately had to deal with an out-of-state court system, he affirmed that Fathers For Equal Rights Inc. made his local challenges easier and assisted in getting him in touch with a similar rights group in California.
"Pretty much it looks really, really good where I will have my son for summer months and possibly for every other major holiday," he stated. "[FER] were very supportive," he added. "Doug took this case personally."
Fathers For Equal Rights Inc. is a "one-stop shop" nonprofit organization that strives to assist men through divorce and child custody cases in a society that usually favors women as the go-to custodial parent, explained Doug Clark, executive director of FER.