Exotic hair boutique opens in Design District
JESSICA NGBOR | 6/22/2015, 9:50 a.m.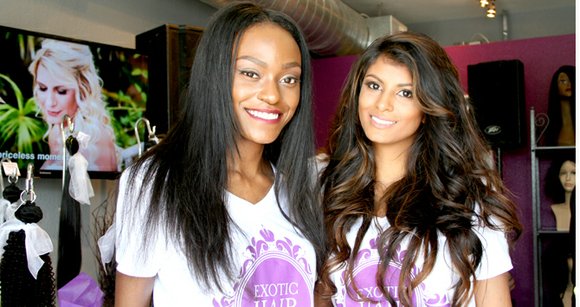 The Dallas Examiner
From straight to curly, from short bobs to unbeweavably long, Exotic Hair by Shenia offers an exclusive line of 100 percent virgin hair from different exotic locations around the world. For the past three years, boutique owner Shenia Browne offered her products exclusively online.
"I was getting so tired of running around to all of clients, being mobile, and everybody wanted to see the hair," Browne explained. "So I thought, I'll start a boutique – give my clients the ultimate shopping experience. Just like they were going to buy their clothes, they could come and pick out their hair."
She decided to open her hair boutique in an 800-square suite located at 1430 Dragon St.
"I read an article about the Design District and how they were changing it, and they were trying to revitalize it and bring in more stores. It's going to be the new trendy area to be in, so I thought this would be a great location for my first location," she said.
Radio personality Gary with Da Tea from the Ricky Smiley Show hosted the grand opening of the boutique on April 18. He brought his vibrant personality and kept attendees laughing.
"I think it's nice that somebody of African descent is owning a boutique like this. Now most women are wearing hair extensions, which White women were wearing hair extensions a long time ago before Black men even knew about it," Gary said
During the event, hair models displayed the different hairstyles that could be used with various products. Browne's store offers custom hair that consist of 32 different shades of different colors; a signature collection which includes Asian straight hair, Malaysian and Peruvian hair that ranges between 12 in. to 30 in. in straight and wavy, the premium collection which includes Brazilan, Indian and the exclusive Russian; as well as the kinky collection and customized wigs.
Customers can also bring their wigs from home to customize them. Shenia and her assistant personally do the installments of the hair at the boutique.
"It's for women, you know how we are, we love our hair. It doesn't matter the age. We go from the 18-year-old all the way up to our church ladies in their 60s," Browne boasted. "Most hair boutiques you go in you just find the hair, they don't have a boutique-like feel. They don't have experienced staff that knows the hair, knows what you need to buy, and knows what will fit you, so we can offer all of that."