50 Hoops cancer awareness initiative
DIANE XAVIER | 6/29/2015, 1:17 a.m.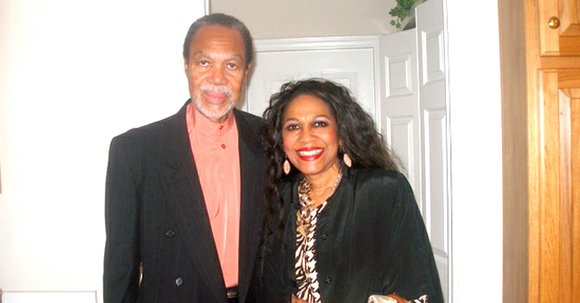 The Dallas Examiner
African American men are nearly 1.6 times more likely to be diagnosed with prostate cancer than Caucasian men and 2.4 times more likely to die from the disease, according to the Prostate Cancer Foundation. Due to this statistic, local residents Ed and Patricia Sanders are doing what they can to raise awareness about this issue in the African American community.
Patricia is CEO and director of 50 Hoops National Prostate Cancer Basketball Tournament and Health Fairs. This year, 50 Hoops will celebrate 17 years as a health organization. It is considered to be the first prostate cancer basketball tournament for men ages 30 to 50 and over.
Sanders said the goal of the organization is to help African Americans nationwide to gain better access to disease resources and clinical trial information and offer life-saving medical screening, information and programs.
"50 Hoops started in 1995 when my husband and I were traveling worldwide doing programs for African Americans in different countries," Sanders said. "My husband is a former professional basketball player and I came from the Fortune 500 company. Two weeks before we left Africa, my husband found out that he had prostate cancer."
After Ed was treated for prostate cancer, the couple was encouraged to start an outreach program educating African American men on prostate cancer awareness by Dr. Claus Roehrborn, head of Urology at the University of Texas Southwestern Medical Center.
"The percentage of prostate cancer mortality in African American men is very high," Sanders said. "So when we came back from South Africa, we started a program in 1998 that involved a basketball tournament that presents prostate cancer education during the games which targets minority men."
The 17th annual 50 Hoops Tournament will take place on July 18 at the Lancaster Recreational Center in Lancaster. The organization is partnering with the Special Olympics and games will include tournaments that involve men and women ages 40 through 70.
The 50 Hoops program also includes national cancer breakfast lectures, the "Fabulous 50 to SEXY at 60 to Sensational at 70" dinner lecture series, "African American in Clinical Trials I and II" luncheon lectures, the "Community Advocacy Site Training Conference and Matchmaking" luncheons and the "African American Health Matters" program, which is a free mobile health text message service that offers monthly tips targeted to keep communities informed on over 15 diseases that affect the community.
Sanders said one way 50 Hoops is trying to educate and reduce the number of African Americans and other minorities that suffer from prostate cancer and other diseases is to encourage them to participate in clinical trials.
In 2000, the National Physician and Family Referral Project, a subsidiary of 50 Hoops, was given a grant by Pfizer to work with the National Human Genome Center at Howard University.
"With this partnership, 50 Hoops was able to leverage new national partners and expand our patient education programs in over three dozen U.S. cities," Sanders said.
On May 29, 50 Hoops hosted its fifth annual African Americans in Clinical Trials dinner and conference at Oak Cliff Bible Fellowship Church. The conference included physicians, patients and community leaders that discussed clinical trial opportunities for people suffering from Alzheimer's disease, breast, colon and lung cancers, and adult immunizations.