Superintendent Miles resigns
DIANE XAVIER | 6/29/2015, 2:07 p.m.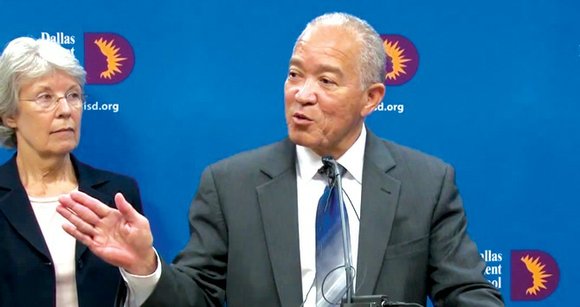 The Dallas Examiner
Dallas ISD Superintendent Mike Miles' reign has ended. Miles announced his resignation as superintendent of the district on Tuesday at Dallas ISD headquarters on Ross Avenue.
Miles has served the district – composed of 160,000 students – since July 2012.
"There are all kinds of reasons why a person would think about leaving and I had to think about whether this was the right time, whether we laid a good foundation, whether the team can continue to move the work forward, and I have to think about my family also," Miles said. "It's the end of the school year and my son is going to be starting the ninth grade and we have a great foundation laid here in Dallas, we have a great team, so it is the right time."
Miles' wife and son moved back to Colorado in 2013 due to the negative news coverage Miles received as superintendent that began to affect his son.
"This was a very difficult decision for me to make and one that has not been made lightly," Miles continued. "A position like this takes extraordinary commitment and sacrifice. But I also have a commitment to my family. It's time to rejoin them in Colorado."
Miles will surrender his duties over to Deputy Superintendent Ann Smisko at tonight's school board meeting. At which time Smisko will assume the day-to-day duties as acting superintendent.
Miles' tenure was plagued by controversy and turmoil. During his leadership, he fired several principals and teachers he deemed weren't doing the job well, closed down schools, advocated for school choice and instituted the Teacher Excellence Initiative, a pay-for-performance teacher evaluation system.
Despite these controversies, Miles said he felt he has accomplished quite a bit as Dallas ISD's superintendent.
"I am proud of a lot of things that I did," he said. "One is that we passed the most rigorous pay for performance evaluations system for teachers called the Teacher Excellence Initiative, we passed the most rigorous principal evaluation system, we have improved our fund balance, our financial position has been the strongest it has ever been in the district, we started school choice program, we started early childhood programs, we created the HUB, an online newsroom, and decreased the number of teacher vacancies."
Miles also discussed the challenges he faced as superintendent.
"I think the challenges include following the right pace of reform," he said. "You don't want to push too fast but you also don't want to go too slow. Our kids need a great education. They don't have a lot of time for us to get it right so the challenges to see where you are and see how far you have to go. The other challenges include what other large urban school districts face is that we have a lot of children who face poverty. The need is great so you always have to think about the resources you have and the resources you don't have. You also have to think about where many of the kids are."