HUD chief seeks broadband access for poor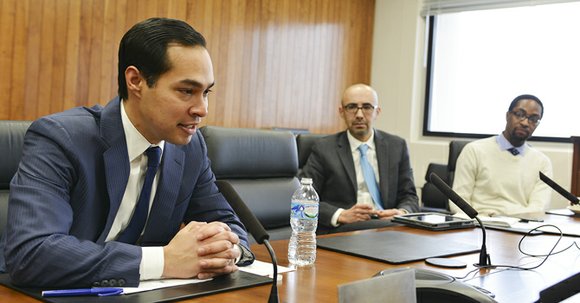 WASHINGTON (NNPA) – Julián Castro, the secretary of the Department of Housing and Urban Development, wants to provide broadband access to public housing residents in an effort to increase socioeconomic mobility among poor and low-income families.
"We think [broadband access] is important because the world requires a connection to the Internet now," Castro said.
He said that HUD wants to launch the program, which is still in its early planning stages, in 20 major metropolitan areas working with private sector telecommunication companies to wire the communities or provide wireless in a free or very low-cost way.
Castro said that in the vast majority of public housing communities there is no connectivity.
According to a 2014 report by the Pew Research Center, most households with incomes below $20,000, "do not have an internet subscription for a computer, cell phone or other device, though they may have free access at a local library or elsewhere." Roughly 25 million American households, "have no regular internet access at all, either at home or elsewhere."
Sixty-two percent of Black adults have broadband access at home compared to 74 percent of White adults. A gap of 12 percent. The digital divide between Black and White adults 65 and older leaps to 21 percent (30 percent vs. 51 percent who have broadband at home).
A 2010 Pew survey revealed that Americans feel that people that don't have broadband access at home "are at a major disadvantage when it comes to finding out about job opportunities or learning career skills, or when getting health information, learning new things for personal enrichment, and using government services."
Castro said that a respectable number of people have Internet connection through their cellphone, but it's not the same as having that access in your home where it's more stable and you can do homework and other things that people generally don't do on their phones.
Castro attended junior high school with a lot of kids that lived in public housing and his father also lived in public housing at different periods in his life.
"I know that the folks who live in public housing have the same aspirations and the same potential as anybody else," Castro said. "And here at HUD we're going to do every single thing that we can to make sure that they can be a part of our American success story."
That American success story includes increasing homeownership to build wealth from one generation to the next and to increase upward mobility, and that's a part of HUD's long-term mission.
The department's most immediate challenge, however, is addressing disparities in the rental market.
Blacks not only face discrimination in the rental market, but they also are treated differently than Whites when they look to become homeowners.
According to a 2013 report by the Department of Housing and Urban Development, "Black renters who contact agents about recently advertised housing units learn about 11.4 percent fewer available units than equally qualified whites and are shown 4.2 percent fewer units."
Blacks are also offered shorter leases and told that background checks are required more often than White renters.