Monday Night Politics Forum featured City Council candidates for District 3
DIANE XAVIER | 3/16/2015, 9:44 a.m.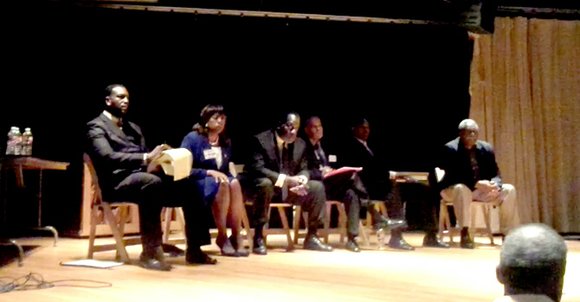 The Dallas Examiner
It's back. Monday Night Politics kicked off its first series on March 2 featuring candidates for Dallas City Council District 3.
On May 9, citizens in Dallas will cast their vote to select several new officials for Dallas City Council in the upcoming elections. There are six open seats due to term limits, which means Councilmembers Vonciel Jones Hill, Tennell Atkins, Dwaine Caraway, Carolyn Davis, Jerry Allen and Sheffie Kadane cannot seek reelection.
In this district, six candidates are running for this seat, which Hill currently holds. They include Gerald Britt, Wini Cannon, B.D. Howard, Kermit G. Mitchell, Joe Tave and Casey Thomas.
The forum began with The Dallas Examiner publisher, Mollie Belt, thanking the audience and the forum's sponsors for their participation.
"The Dallas Examiner does not endorse candidates," Belt said. "We acknowledge all candidates running for elected office."
The moderator of the event was Matt Houston, chairman of the Dallas Black Chamber of Commerce.
Each candidate then introduced themselves and gave a short summary about their goals for the district.
Thomas, an educator for the past 16 years, talked about why he was running for office.
"For the past six months, I went throughout the district listening to people and what their issues and concerns were," Thomas said. "I found out that many people had the same concerns. People want clean neighborhoods, economic development and jobs. Also, over the past three months, we've conducted community conversations, which are discussions with citizens on what's important to them. Things important to residents were education and code enforcement. After hearing all these, I decided to run for office myself as a Dallas City Council candidate."
Thomas said there are four things essential to bringing change in the district, which include economic development, community development, public safety and education.
"We need to build the community up and also have nice, clean neighborhoods," he said. "It's also important to build relationships with the police department. And finally, we need to focus on early childhood education. We have to make sure every parent and every child that is 3 or 4 years old that qualifies is in pre-K because that is the only way that we are going to close the achievement gap."
Cannon then spoke and said she believed she was the best candidate for District 3.
"I'm a lawyer by profession and a former municipal judge," she said. "I worked for the city of Dallas for two years. The day came when I recognized that it's bigger than me, bigger than my family, and it includes the whole community. As a municipal judge and city employee for two years, I observed directly some of inefficiencies in our government."
Cannon said one of the things that make communities better is more revenues and income.
"We are spending millions to pay rent to the counties for offenders in municipal court and everyone has talked about economic development but there haven't been any viable plans," Cannon said. "What I submit to you is part of that money we are using for the county jail could be used for economic development."