Jacqueline Woodson: Brown Girl Dreaming
MIKE McGEE | 3/19/2015, 5:51 p.m.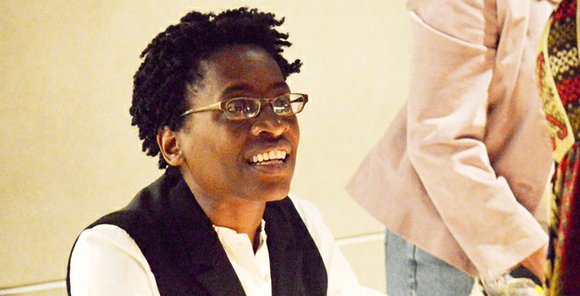 The Dallas Examiner
Jacqueline Woodson stood on the Horchow Auditorium stage inside the Dallas Museum of Art and asked "So, where do I begin?" The writer appeared at the Feb. 22 event Jacqueline Woodson: Dreams Come True in support of her latest book of poetry, Brown Girl Dreaming. The presentation was part of the ongoing DMA Arts & Letters Live program.
The author's latest effort was awarded the 2014 National Book Award for Young People's Literature; the anthology lyrically describes Woodson's experiences growing up Black in the 1960s and 1970s. As she addressed the packed house, Woodson acknowledged that her body of work explores issues of gender, class, history and race, as well as her own family dynamics.
"My mom had four kids, and was a Southern mom, so she was always mad at somebody," Woodson said as she revealed her mother to be an unwavering disciplinarian. "As teenage daughters and mothers do we kind of grew further and further apart." It was only after Woodson graduated collage and became a mother herself that the two became close again.
Since her first published book, 1990's Last Summer with Maizon, Woodson has won three Newbery Honor Medals and the Margaret A. Edwards Award for Lifetime Achievement in Writing for Young Adults, among other recognitions. While most of her books are written for children and young adults, the themes of her work draw adult admirers as well. Woodson's inspiration for her latest book came after her mother's death and a wish to better understand her mother as an individual.
The writer admitted that she had a sense her parents would always be around.
"And then you have this shock, when they are no longer with you physically, of realizing 'Wait, there was one more question I meant to ask you … '" she voiced. "I remember just thinking, 'There's so much I don't know. And, what do I do with this not knowing?'"
Woodson's conclusion was to explore her life – and the life of her family and their place as African Americans in society – through free-verse.
The author, born in the then-segregated South, said that she wanted to be a writer since she was 7 years old. Despite Woodson's claim of being a "slow reader" who struggled in school, she proclaimed that the biggest impediment in her writing career was the possibility of never having the opportunity to become a writer at all, successfully or failed.
"It was that time when, as a young girl of color, there weren't writers around me … people didn't grow up to be writers. You grew up and worked at Con Edison, or you became a teacher, or you became a hairdresser."
It took years of perseverance, supportive teachers and writing classes before the publishing of her first book.
Brown Girl Dreaming came into being only after the writer's family members shared their personal histories at her urging, Woodson documenting all that she learned.
"I just bombarded everybody with questions," she explained that her family previously didn't talk much about the past due to personal pain. "I think part of it was, my mom and grandmother grew up during Jim Crow in South Carolina and there was something about that being so close to us and too much with us."