Jacqueline Woodson: Brown Girl Dreaming
MIKE McGEE | 3/19/2015, 5:51 p.m.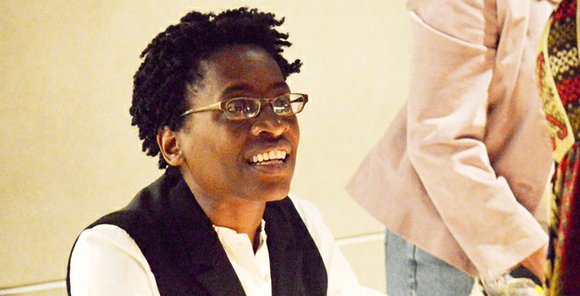 She conceded that an eventual move to New York didn't shake away the ghosts of the South for her family.
"I think about African Americans and the fact that we came to this country – we were brought to this country," she restated as she corrected herself, "to work until we died. And that we were brought to this country to be owned by other people."
Woodson further pointed out that Blacks were brought to America by people who were content to own people, decreeing "which is a sick concept when you think about it."
As the author considered the historical context of Africans in America for her book she also delved deeper to examine the context of her own life within that larger social tapestry. One result of that introspection was her poem, February 12, 1963.
"I am born on a Tuesday at University Hospital, Columbus, Ohio, U.S.A.," she read. "A country caught between Black and White."
She wrote about the life her great-great-grandfather lived as a farmer, South of slavery and emancipation, The Great Migration. Activities and instances, national and personal – Black roots which led to her growing into who she is now.
"A people who look like me keep fighting and marching and getting killed so that today, February 12, 1963, and every day from this moment on, Brown children like me can grow up, can grow up free …" she read on as she drew the listeners into her world.
Woodson often read in a cheerful and engaging voice that belied the sometimes intense themes or high ideals present in her tales. However, her poetry was not meant to wear readers down but rather to educate, enlighten and inspire. She made certain that the heaviness and histories were not without hope. At one point she described herself as "a writer concerned with the greater good and creating change in the world."
Change and uncomfortable constants were touched upon in her poem It'll Be Scary Sometimes. In that piece Woodson gleaned lessons from her great-great-grandfather William's life, applied them to her own existence, and offered them to her readers and listeners. She described how he was born a free man, built his house, farmed his land, and dug for coal.
"… fought hard in the war, his name in stone now, on the Civil War Memorial. William J. Woodson, United States Colored Troops, Union, Company B, 5th Regiment," she recited.
Once Woodson had concluded the poem she expressed what it meant in finding her relative's name etched into the memorial.
"That was one of the most humbling moments for me," she said. "That he had actually walked this land, and because he walked this land and because he fought and because came to Ohio I'm standing here."
Woodson expressed her belief that such links from the past to the present were not accidental and used as an example the very program the audience was attending.
"We're here because of the people who came before us, and the people who came before them, and the people that read, and the people who read to you when you were a child and the people who said 'This is important,'" she indicated. "All of the things that happened before us to this moment now."
The significance of moments to Woodson is also apparent in It'll Be Scary Sometimes. In the closing lines of the poem she offers a suggestion to readers for the times they may find themselves alone amid a sea of people.
"William Woodson, the only brown boy in an all-White school. You'll face this in your life someday, my mother will tell us over and over again," the author read to the crowd before her. "A moment when you walk into a room and no one there is like you. It'll be scary sometimes. But think of William Woodson and you'll be all right."