Feed Oak Cliff strives to uplift community
JESSICA NGBOR | 3/27/2015, 8:15 p.m.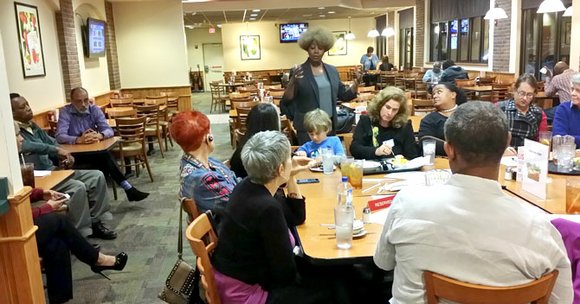 The Dallas Examiner
It's a shoppers' utopia, if you are not used to going to colorful and organized grocery stores filled with fresh fruit and vegetables – cleaned, chopped and ready to dine on.
Anga Sanders noticed there was a difference between North Dallas grocery stores and those in the South Dallas neighborhoods when she went shopping at Albertson's – now Minyard's – on Lemmon and McKinney Avenue.
"When you walk into that store, one of the first things you see because it's right up front is this beautiful salad bar," she observed. "You make your own salad; they got a lot of selections, a lot of different salad greens, they got all kinds of different things to put in your salad, and you can scoop up as much or as little as you want to. It's always fresh and it's always clean. I've seen it for years and I realized there is nothing like that in Oak Cliff. The only place you can go make your own salad in Oak Cliff is Golden Corral, and they don't have anything close to the selection that this Albertson's grocery store had."
Sanders was tired of driving to North Dallas for healthier options. She posted a picture of the salad bar on her Facebook page and it received a lot of attention. This encouraged her to take action and bring healthier food selections to Oak Cliff.
In November 2014, she started Feed Oak Cliff, a nonprofit organization dedicated to bringing healthy food education, choices and consumption to Oak Cliff.
During a past meeting, the organization held a discussion with Terrance Maiden, executive vice president of Development for Corinth Properties; Tamela Thornton with Emmitt Smith Enterprise; an assistant city attorney; and a representative of the Office of Business and Economic Development of the city of Dallas to find out what developers look for and in what ways Oak Cliff can improve.
Corinth Properties is responsible for building many things in the Southern Sector such as the Walmart on Ledbetter and I-35.
"We know that it is going to be a challenge to attract developers to our area, because there is a terrible misperception of Oak Cliff and its residents, and we know we have to overcome that. People don't really know what Oak Cliff is. They think it's a high-crime area and it's not," Sanders insisted.
In hopes of altering negative perceptions of the area, the organization plans on putting volunteers in local schools to help elevate their ratings and educating parents on what to look for when it comes to quality education.
They also plan on making sure the neighborhood associations are active, having clean-up days and different activities and events to unite the neighborhoods.
At the end of the summer, Feed Oak Cliff will host Dallas VegFest at Kiest Park. The veggie fair will promote the benefits of healthy eating and expose the community to healthier options. It will include classes on healthy cooking and eating with entertainment provided. Food trucks and vendors will be in attendance as well.
The group meets every second Thursday of each month at Concord Church at 6 p.m. There is no membership fee required. For more information, find them on Facebook at FEED Oak Cliff or Twitter @FEEDOakCliff.