Loretta Lynch confirmed
First African American female attorney general
STACY M. BROWN | 5/1/2015, 10:05 a.m.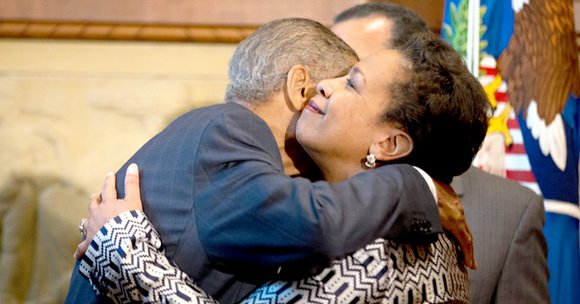 (NNPA) – Loretta Lynch has spent much of her life fighting for the fair and equal justice that President Barack Obama called the foundation of the nation's democracy.
But, to Lynch and her supporters, her confirmation on April 23 as the next attorney general may have seemed that it took a lifetime for the Senate to vote and approve Obama's pick to succeed Eric Holder.
This should be a happy day for America, said Missouri Democratic Sen. Claire McCaskill. Republicans opposed her merely because she agrees with the man who selected her, McCaskill said.
With the 56-43 vote to confirm her, Lynch, 55, becomes the first African American female attorney general in United States history.
As head of the Justice Department, Lynch, who's served as the United States attorney for the Eastern District of New York since 2010, will oversee a vast portfolio of cases, including counterterrorism and voting rights; public corruption and white-collar crime; judicial recommendations and policy reviews.
"All of which matter to the lives of every American, and shape the story of our country," Obama said in a statement.
"She will bring to bear her experience as a tough, independent and well-respected prosecutor on key, bipartisan priorities like criminal justice reform. And, she will build on our progress in combating newer threats like cyber crime. Loretta's confirmation ensures that we are better positioned to keep our communities safe, keep our nation secure, and ensure that every American experiences justice under the law."
Congressional Black Caucus Chair, Rep. G.K. Butterfield, had joined many others in expressing outrage over the long delay in confirming Lynch, who Obama picked in November to replace Holder.
Lynch's nomination cleared the Senate Judiciary Committee in February, but she still waited longer than the seven most recent U.S. attorney generals combined for a vote on the Senate floor, Butterfield said.
"Today is a historic day for our country as Loretta Lynch becomes the first African American female to serve in the role of our nation's top law enforcement official," he said. "Her impeccable qualifications in this important position will help our country move the criminal justice system forward."
With the seemingly unending videos and reports surfacing in a growing number of cities where African Americans are losing their lives in confrontations with law enforcement, many said it was important that the attorney general nomination would no longer be held up.
"It was ridiculous," said Northeast resident Carl Moore.
"Blacks are losing their lives and White Republicans are stopping a Black woman from such a critical leadership position. It had to come to a head at some point," said Moore, 56.
Born in Greensboro, North Carolina, Lynch grew up 60 miles to the east in Durham, North Carolina. According to a CNN report, Lynch's father was a fourth-generation Baptist minister; her mother, an English teacher and school librarian.
As a child, Lynch rode on her father's shoulders to his church, which served as a meeting place for students organizing anti-segregation boycotts in the early 1960s, she told the Judiciary panel at her January confirmation hearing.