Quality of Life Matter: Groups join Dallas to Baltimore rally
DIANE XAVIER | 5/7/2015, 5:01 p.m.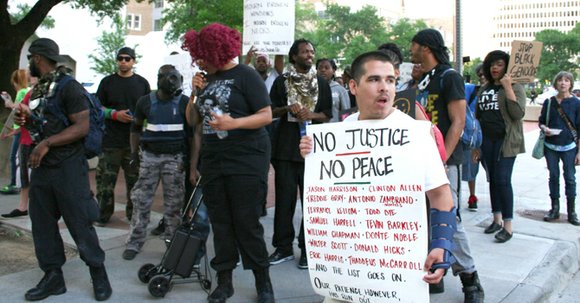 The Dallas Examiner
It was a peaceful night of protests in Downtown Dallas on Friday at 5 p.m. as hundreds of marchers joined together to show their support and solidarity against police brutality that has affected many cities throughout the United States.
Mothers Against Police Brutality organized a march in Dallas to express their views on the riots that took place in Baltimore due to the death of Freddie Gray, who died from a spinal cord injury after being in police custody.
The march, Dallas to Baltimore Solidarity Rally, took place at the Frank Crowley Courts Building in Downtown Dallas.
At the same time, the Texas Organizing Project held a separate rally in front of Dallas City Hall in order to fight for comprehensive immigration reform.
Both groups joined forces later that evening as they marched Downtown from the Belo Gardens to the First United Methodist Church on Ross Avenue – after a brief detour. Protesters shouted in unison, "Justice for Freddie Gray" and "Black Lives Matter."
"We started with the Mothers Against Police Brutality in front of the Frank Crowley Courthouse and then we marched over to the federal building where we actually marched with the immigration protestors, which was beautiful because we started to fight for each other's causes," Adondess Jackson said. "Then we came here to the First United Methodist Church to participate in a service that will uplift the spirit."
Jackson and Michelle Keeton, two of the marchers, said they came out on their own free will to participate in the marches. Both had their own reasons to participate in the protests.
"It is very important to me that we get the message out that we will not be silenced," Jackson said. "I do want to state that the cops in Baltimore were charged but were not tried. This will not silence us. We need to figure out what is going on in the system that is making it okay for them to kill young minorities for no reason."
Keeton said she was here for general support and also to show support for a friend who she said was mistreated by police.
"I was here for general support until I found out that Olinka Green had been run over on Monday and she was actually one of my closest friends who lived behind me for eight years and so now I am here for her support and here with that purpose," Keeton said.
Wearing a sandwich board with names of people killed by police, Green was at a silent march in Dallas earlier that week. After being asked by local law enforcement to leave, Green tried to get the badge number of the officer. She was then run down with a Segway and maced. Green was charged with two felony assaults and is being held on a $30,000 bail for allegedly hitting the officer. Green said she did not hit the officer, according to Keeton.
Lisa Jones also participated in the march and is a mother whose son has experienced police harassment.