A Community Cooks at WE Over Me Farm
DIANE XAVIER | 5/11/2015, 10:49 a.m.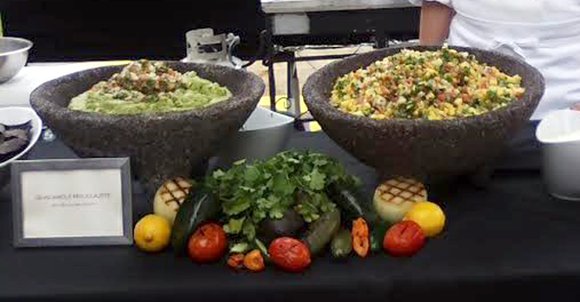 The Dallas Examiner
Top chefs of Dallas/Fort Worth showcased their culinary skills as they incorporated fresh vegetables from Paul Quinn College's We over Me Farm, during the college's fifth annual "A Community Cooks" Celebration, held April 23.
"A Community Cooks is our celebration of the farm," PQU President Michael Sorrell said. "We invited some of the top chefs in DFW and they fixed meals for people here where they can go from station to station and eat themselves up to a stupor and everyone has a great time. This is the fifth year we are having this and it has grown every year. It really is an opportunity to show people everything that can be done in spaces that you might have not expected."
Held on campus, the event attracted hundreds of people who welcomed the opportunity to sample farm-fresh gourmet versions of brisket, guacamole, roasted chicken salad, corn dip, vegetables, coleslaw, green tomatoes and salmon.
Proceeds from the event will go toward the farm, which was PQU's football field until 2010, when it was converted into a two-acre organic farm whose goal was to increase healthy eating in the Highland Hills community – a federally recognized food desert.
Over four years, students at Paul Quinn have grown and produced over 50,000 pounds of fresh produce from the farm. The produce has been used in the cafeteria and sold to the community for a discounted rate. Dallas' chefs also use the produce along with farmer's markets in the Metroplex.
"When I first got involved with the farm, I wasn't too impressed by it because it was kind of like a job at first and then after a couple of weeks working on the farm, I realized the importance of having it and having fresh produce in our community and it grew on me and developed into a passion," said Chanson Goodson, a junior at Paul Quinn and a supervisor of the farm.
During the event, Sorrell talked about how the farm – which has impacted the school and the community – started as an idea for the school to do better in its resources.
"People deserve better," Sorrell said. "We think that no one in one of the richest cities in the country should live in a food desert. We think that it was fundamentally unacceptable for people to tell us that they couldn't help or couldn't do anything about it. What we wanted to show people was to stop waiting for others and do for yourself. Embrace entrepreneurial thought and action and make great things happen. I promised people eight years ago that we were going to become one of the premiere great small colleges. And great small colleges produce at a very high level in a lot of different areas. So this was what people should expect. They should expect us to have great produce from a farm and a great academic experience. This is how you deliver on your promise."
Sorrell said future plans include the farm being used to help stock grocery stores and supply restaurants.