Congressional leaders 'Put on Purple'
Special to The Dallas Examiner | 5/22/2015, 9:48 a.m.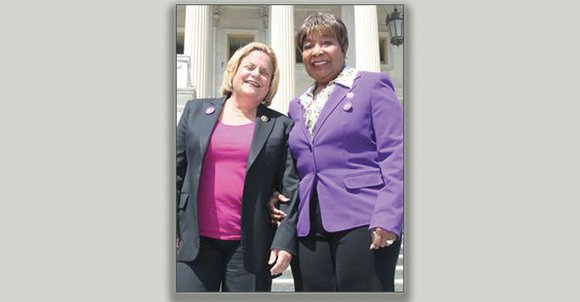 Special to The Dallas Examiner
On Friday, Congresswoman Eddie Bernice Johnson joined fellow Congressional Lupus Caucus Co-Chair Congresswoman Ileana Ros-Lehtinen to recognize Put on Purple day – a day for lupus awareness and education.
Lupus is an autoimmune disease that affects an estimated 1.5 million Americans. The chronic and potentially life-threatening disease can affect nearly any part of the body including the skin, lungs, heart, joints, kidneys and brain. On average, it takes six years for a lupus diagnosis from the first onset of symptoms. This is because lupus is known as the "great imitator," mimicking many other illnesses and no single test can diagnose a patient.
It is also known as the "cruel mystery" because most symptoms can't be seen, yet can be debilitating and strike without warning, with no real treatment or cure.
"We must do more to ensure that Americans understand lupus, its severity and its symptoms," Johnson stated. "Research shows that nearly two-thirds of the public knows little or nothing about lupus beyond the name. Despite the widespread prevalence of lupus, medical research has remained underfunded relative to its scope and devastation."
The caucus is a bipartisan forum in which members of Congress can discuss and promote greater awareness and advancement in research of the disease. It also offers patients and advocates a venue to contact and/or work directly with Congressional leaders.
The caucus and the foundation are dedicated to finding a cure for lupus and give hope to those affected by this cruel disease. They also encourage community support in their efforts.
The caucus is co-chaired by Reps. Johnson, D-Texas, Tom Rooney, R-Fla., William R. Keating, D-Mass., and Ileana Ros-Lehtine, R-Fla. The caucus seeks to build awareness for this chronic condition and simultaneously work to increase funding for research to improve the diagnosis and treatment of lupus.
There are about 1.5 million Americans that have been diagnosed with lupus – and 120,000 in Texas. The disease is two to three times more likely to occur in African Americans than Whites. It affects mostly women – 90 percent more than men – during their childbearing years. Onset of the devastating effects is usually between the ages of 15 and 44. However, nearly three-fourths of those with symptoms have never heard of lupus, according to the Lupus Foundation of America, North Texas Chapter.
Lupus not only affects the patient but their family as well. No cure or satisfactory treatment exists, but there is hope. The LFA North Texas chapter serves 82 percent of the state. It offers direct services such as support groups, doctor's referrals, teleconferences, workshops, annual conference on lupus, welcome packets and an information line on weekdays. More information can be found at http://www.lupus-northtexas.org.
The foundation will host its Rally for Lupus/Annual Educational Conference on May 30 at 9:30 a.m. at Texas Health Resources University, 8194 Fogelson Lane. For more information and registration, visit http://www.lupus-northtexas.org.
Facts about lupus
• A recent study found that over half of those who were misdiagnosed, saw four or more health care providers before receiving an accurate lupus diagnosis.