Are You Smarter Than a KIPPster?
DIANE XAVIER | 5/22/2015, 9:40 a.m.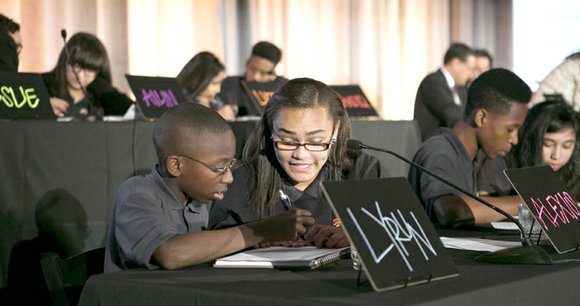 The Dallas Examiner
"Are You Smarter Than a KIPPster?" gave local and regional celebrities a second chance to test their knowledge against middle school students from KIPP DFW's college preparatory school.
The event featured education-based trivia questions on math, science, history and popular culture and is based on the quiz bowl style game of the popular television game show, Are You Smarter Than a 5th Grader.
Local celebrities included Dallas County Judge Clay Jenkins, Pastor Bryan Carter, the Honorable Florence Shapiro, the Honorable Pauline Medrano, Lucy Wrobel, philanthropist and DJ, and included advertising executive and comedian Chris Smith, who emceed the event.
Held on April 30, the students defeated the adults by a score of 92-68.
The challenge was a KIPP's second annual fundraising event held at the Frontiers of Flight Museum. The event raised $504,525 towards KIPP DFW's $23 million expansion campaign to grow to 10 campuses by 2020.
Quinton Vance, executive director of KIPP DFW, explained the fundraiser's goals.
"KIPP DFW is a public charter school that provides an alternative choice for families within the community who are traditionally underrepresented resource communities to have access to a high-quality college focused education," Vance said. "Part of our challenge as a charter organization is raising awareness for the need of high-quality public school seats in the city of Dallas as well as raising the funds to grow to serve more and more kids within Southern Dallas which is where we are growing. We have a goal of serving 5,000 kids and 10 schools by 2020. So this event is an opportunity for us to build awareness and support for our students and the schools that we hope to build to serve them as well as towards a high-quality future."
Vance said KIPP DFW plans to open two new additional schools by this summer. Currently, the school operates one middle school and one elementary school.
"By providing a high-quality education, we provide students the opportunity to make the most out of their lives," Vance said.
KIPP DFW Board Chair Peter Brodsky explained how the school has impacted students.
"KIPP DFW has impacted a lot of people's lives because we have about 800 students right now that are in really excellent schools that are setting them in paths to go through college," Brodsky said. "What we are really all about is giving kids the opportunity to ultimately live a choice-filled life and that starts with a great fundamental education. So we feel that by providing them the opportunity to fulfill their best potential we are changing lives."
Shay Richardson, a pre-K teacher for KIPP Destiny, said she wanted to work for the school for the experience.
"I have worked with children for over 12 years and once I received my bachelor's degree it was just an opportunity," Richardson said. "The school is different because the ratio of children is low and it is a different fundamental learning environment and is a great learning experience for me as well with the children. The classrooms are not really overcrowded and the children are really nice and great to work with."