King of Blues: Musical legacy of B.B. King
KEN RITTER | 5/22/2015, 9:44 a.m.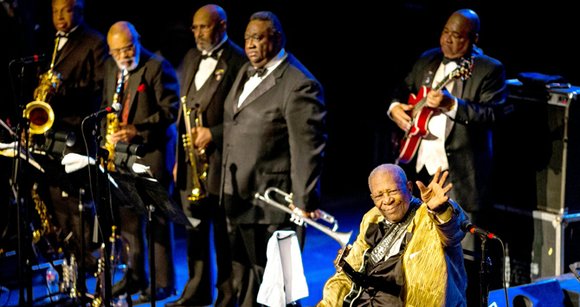 LAS VEGAS (AP) – B.B. King, whose scorching guitar licks and heartfelt vocals made him the idol of generations of musicians and fans while earning him the nickname King of the Blues, maintained a legendary career spanning nearly 70 years.
Born Riley B. King on Sept. 16, 1925, on a tenant farm near Itta Bena, Mississippi, King was raised by his grandmother after his parents separated and then his mother died. He worked as a sharecropper for five years in Kilmichael, an even smaller town, until his father found him and took him back to Indianola.
"I was a regular hand when I was 7. I picked cotton. I drove tractors. Children grew up not thinking that this is what they must do. We thought this was the thing to do to help your family," he said.
When the weather was bad and he couldn't work in the cotton fields, he walked 10 miles to a one-room school before dropping out in the 10th grade.
King got his start in radio with a gospel quartet in Mississippi and soon moved to Memphis, Tennessee, where a job as a disc jockey at WDIA gave him access to a wide range of recordings. He studied the great blues and jazz guitarists, including Django Reinhardt and T-Bone Walker, and played live music a few minutes each day as the "Beale Street Blues Boy," later shortened to B.B.
Through his broadcasts and live performances, he quickly built a following in the Black community and recorded his first R&B hit, Three O'Clock Blues, in 1951.
After he broke through as a musician, it appeared King might perform non-stop. When he wasn't recording, he toured the world relentlessly, playing 342 one-nighters in 1956.
He began to break through to White audiences, particularly young rock fans, in the 1960s with albums like Live at the Regal, which would later be declared a historic sound recording worthy of preservation by the Library of Congress' National Recording Registry.
He further expanded his audience with a 1968 appearance at the Newport Folk Festival and when he opened shows for the Rolling Stones in 1969.
He was not only the undisputed king of the blues but a mentor to scores of guitarists, including Eric Clapton, Otis Rush, Buddy Guy, Jimi Hendrix, John Mayall and Keith Richards. King recorded more than 50 albums and toured the world, often performing 250 or more concerts a year.
King played a Gibson guitar that he affectionately called Lucille with a style that included beautifully crafted single-string runs punctuated by loud chords, subtle vibratos and bent notes.
The result could bring chills to an audience, no more so than when King used it to full effect on his signature song, The Thrill is Gone. He would make his guitar shout and cry in anguish as he told the tale of forsaken love, then end with a guttural shouting of the final lines: "Now that it's all over, all I can do is wish you well."
His style was unusual. King didn't like to sing and play at the same time, so he developed a call-and-response between him and Lucille.