King of Blues: Musical legacy of B.B. King
KEN RITTER | 5/22/2015, 9:44 a.m.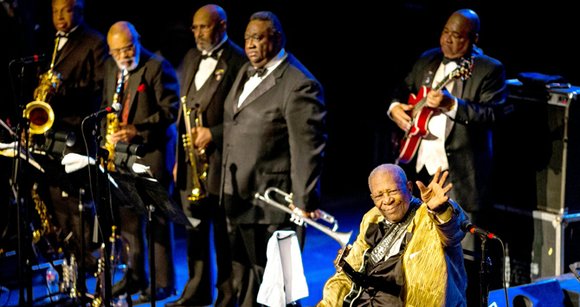 "Sometimes I just think that there are more things to be said, to make the audience understand what I'm trying to do more," said King during a 2006 interview. "When I'm singing, I don't want you to just hear the melody. I want you to relive the story, because most of the songs have pretty good storytelling."
A preacher uncle taught him to play, and he honed his technique in abject poverty in the Mississippi Delta, the birthplace of the blues.
"I've always tried to defend the idea that the blues doesn't have to be sung by a person who comes from Mississippi, as I did," he said in the 1988 book Off the Record: An Oral History of Popular Music.
"People all over the world have problems," he said. "And as long as people have problems, the blues can never die."
Fellow travelers who took King up on that theory included Clapton, the British-born blues-rocker who collaborated with him on Riding with the King, a best-seller that won a Grammy in 2000 for best traditional blues album.
Still, the delta's influence was undeniable. King began picking cotton on tenant farms around Indianola before he was a teenager, being paid as little as 35 cents for every 100 pounds. He was still working off sharecropping debts after he got out of the Army during World War II.
"He goes back far enough to remember the sound of field hollers and the cornerstone blues figures, like Charley Patton and Robert Johnson," ZZ Top guitarist Billy Gibbons once told Rolling Stone magazine.
King was inducted into the Blues Foundation Hall of Fame in 1984, the Rock and Roll Hall of Fame in 1987 and received the Songwriters Hall of Fame Lifetime Achievement Award in 1990. He received the Presidential Medal of Freedom from President George W. Bush, gave a guitar to Pope John Paul II, and had President Barack Obama sing along to his Sweet Home Chicago.
Other Grammys included best male rhythm and blues performance in 1971 for The Thrill Is Gone, best ethnic or traditional recording in 1982 for There Must Be a Better World Somewhere and best traditional blues recording or album several times. His final Grammy came in 2009 for best blues album for One Kind Favor.
Through it all, King modestly insisted he was simply maintaining a tradition.
"I'm just one who carried the baton because it was started long before me," he said during an interview in 2008.
In 1989, he spent 300 days on the road. After he turned 80, he vowed he would cut back, and he did, somewhat, to about 100 shows a year.
King continued to perform well into his 80s even though the 15-time Grammy winner had diabetes. He had been in declining health during the past year and collapsed during a concert in Chicago last October, later blaming dehydration and exhaustion. He had been in hospice care at his Las Vegas home.
He died late May 14 at home in Las Vegas. He was 89.
King's attorney Arthur Williams Jr. said the next day that King told him he wanted his funeral to be held in a church in Indianola, Mississippi, near the site where he worked picking cotton as a boy. Arrangements were not complete.
King's eldest surviving daughter, Shirley King of Oak Park, Illinois, said she was upset that she didn't have a chance to see her father before he died.
He had 15 biological and adopted children. Family members say 11 survive.
Singer Smokey Robinson praised the music legend.
"The world has physically lost not only one of the greatest musical people ever but one of the greatest people ever," Robinson said. "Enjoy your eternity."
Associated Press writers John Rogers and Mesfin Fekadu in Los Angeles contributed to this report.