Lancaster ISD strives to improve education system, public image
MIKE McGEE | 5/22/2015, 9:35 a.m.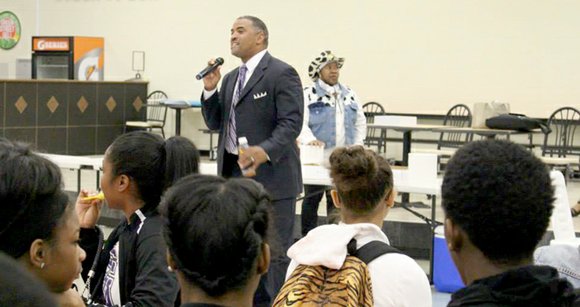 She affirmed that parents had to play their part in such a program.
"A parent has to sign a contract that their student actually will be into this program and the parents will be involved in everything that goes on with AVID," she said.
She indicated that such students attend tutorials through the school day and also gain college and career experiences outside of class.
"But the main difference between them is they have that structure during the school day that helps them … to have that potential," Fanin noted. "They are expected to take those honors-level and pre-AP and AP courses once they reach high school."
The school district's need for improvement was not overlooked during the program, however. As Fanin referenced, parental involvement was one issue the district was taking a closer look at. McFarland emphasized that the level at which adults from the community partnered with schoolchildren could always increase.
"From the school's standpoint, from my standpoint, we need to attack the problem differently," he explained. "We've got to make sure that parents feel empowered. Because when they feel empowered, when they understand what it is we need them to do, and the benefit for their child, they'll be here. It's just, they don't see a benefit all the time in PTA, or in other organizations." McFarland was firm in his declaration that increasing parental partnership was a role the district needed to take on with greater vigor. He remarked that parents might not be moved to bake cookies for a school event but would likely be inclined to take their children to work to learn more about business or the workings of an office should that be part of an education experience.
"I'm not blaming parents – I want to make sure," he continued. "What I'm saying is, as a district, we've got to own that issue and what we plan to do is own that going forward."
Later in the program he told attendees "We always say that parents are not engaged, are not involved, but we keep trying to get them engaged and involved using the same methods."
The superintendent further described the utilization of a different approach to connect with parents as a "creative challenge."
McFarland suggested that keeping students engaged academically when away from school was a task the district wrestled with as well.
"Summer is one prime example. And so, what we're trying to do is figure out a way to extend the school year, but to extend the school year in a nontraditional way," he declared. "So it doesn't look like school but [students] are still engaged in educational-type activities.
Our whole focus is really making sure our kids leave us with more than a high school diploma. So the question is, if they are going to leave us with more than a high school diploma, what types of experiences must they have while they're with us?"
The pondering of such an issue led to the development of the Vision 2020 project. The details and strategies of the plan can be found through a search of the district's website, http://www.lancasterisd.org.