Task Force to improve Black education gives inaugural report
Special to The Dallas Examiner | 5/25/2015, 7:55 a.m.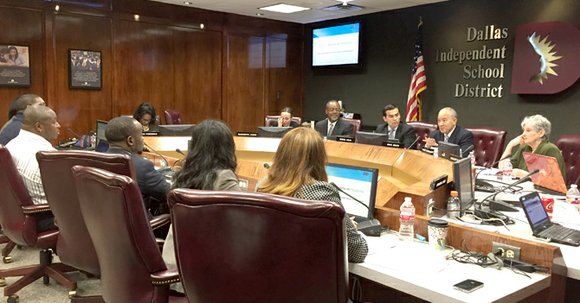 Special to The Dallas Examiner
The African American Student Success Task Force, a task force of skilled educators and community leaders, presented an inaugural report on efforts to close the achievement gap for African American students in the Dallas Independent School District on May 14.
Led by the Board of Trustees First Vice President Lew Blackburn, the task force reported that it is reviewing progress made under the district's African American Success Initiative and ways to improve its outcomes.
The trustees were provided information over a 90-minute span on the task force's initial desire to focus on the Wilmer-Hutchins and Carter feeder patterns, and to focus on the key target areas such as academic achievement, social/emotional development, culture, parent/family engagement and community partnership. The goal is to refine the program on a small scale, then bring it to other areas in other parts of Dallas ISD.
The initiative, launched in 2006, is focused on closing the achievement gap between Anglo and African American students, a group that comprises approximately 23 percent of the district's total enrollment. The effort was initially focused on mathematics but has since been expanded to include reading, college and career readiness, and student advocacy. According to the presentation, passing rates on both the STAAR and End of Course Exams have improved for some African Americans in eight Dallas ISD feeder patterns.