Dallas mayor proclaims Nov. 6 as Tim Brown Day
Special to The Dallas Examiner | 11/2/2015, 9:15 a.m.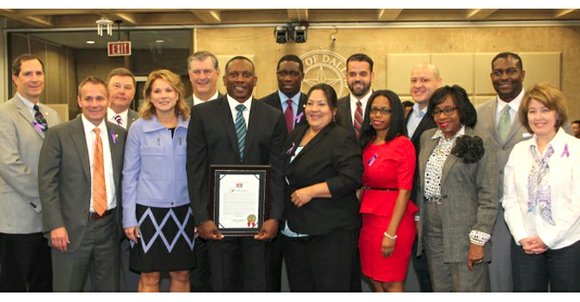 Special to The Dallas Examiner
Pro football hall of famer Tim Brown will have his own day throughout the city of Dallas according to Mayor Mike Rawlings and the Dallas City Council.
During the Oct. 21 City Council briefing, the mayor proclaimed Nov. 6 as Tim Brown Day in honor of his induction into the Pro Football Hall of Fame this year.
Brown, 1987 Heisman Trophy winner, was joined by his mother and other family members at the briefing.
Dallas ISD and the city are joining with the Woodrow Wilson High School Alumni Association to host several activities on Nov. 6 to recognize Brown, a 1984 alumnus of the school. Events include a student assembly; a meet and greet reception at Woodrow Wilson, located at 100 S Glasgow Drive; and a halftime ceremony at the Woodrow and Bryan Adams high schools' football game, held at 7 p.m., John Kincaide Stadium, located at 9191 S. Polk St.
The city has encouraged the public to attend the game. Those attending will have the opportunity to win autographed copies of the athletic program featuring Brown. There is a small admission price.