Kathlyn Joy Gilliam House
New landmark to be institute for inpiring, instructing new generation
JESSICA NGBOR | 11/6/2015, 7:07 p.m.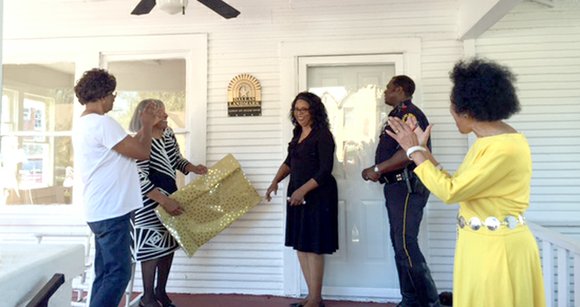 The Dallas Examiner
Students, colleagues, friends and family of Kathlyn Joy Gilliam gathered together at 3817 Wendelkin St. on Oct. 16 for the unveiling of The Kathlyn Joy Gilliam House and the commemorative celebration of her 85th birthday. The mistress of the landmark dedication ceremony was Carla Ranger, former Dallas City Council District 6.
Gilliam was the first African American woman to serve on the Dallas ISD Board of Trustees in 1974. And in 1980, she became the first African American woman to serve as board president. She dedicated 23 years of service to the board. During that time, she helped bring magnet programs to Southern Dallas schools.
Her dedication to education began early. During the 1960's, she served as the president of the Dallas Council of Colored Parents and Teachers. She also served as the president of the Dallas City Council PTA school board, secretary of the Texas Congress of Colored PTAs, and various other organizations.
"She didn't mind if she didn't have the vote, she stood on principle, she stood on what she believed in. She didn't wobble, she didn't lean. Her neck was straight forward," said Carolyn Davis, former Dallas City Council District 7.
Gilliam was very devoted to her community and founded Clean South Dallas, The Political Congress of African American Women, The Black Coalition to Maximize Education, and The Selena Butler Institute in hopes of restoring the community. She was also an educational activist.
"She loved the students so much that she wanted the very best for them. She wanted to make sure that the parents were informed and once they were informed they reacted and did something about what they learned," Davis recalled.
Because of her passion for education, the Kathlyn Joy Gilliam Collegiate Academy was named in her honor in 2011. With a main objective to prepare high school students for college, the campus is located adjacent to the University of North Texas at Dallas.
During that time, she had been battling cancer and died shortly after the dedication of the academy, on Dec. 11.
A board of directors and advisory committee was formed in order to preserve Gilliam's legacy to honor all she has done for the community. Together, the group was able to turn Gilliam's house into a Dallas landmark to become the Kathlyn Joy Gilliam Museum, a nonprofit organization that would serve as a museum and resource center.
During the ceremony, Rev. Hosley Hickman led the invocation.
"We pray for those thankful hearts for their endeavor to transform this former resident of our sister Kathlyn Joy Gilliam into a meaningful place for younger people and even us old people. To be able to come and learn, study, plan and execute those principles which guided Kathlyn Gilliam," he prayed.
Gilliam's daughter, Constance A. Harris, and sister, M. Lorraine Parson, spoke as well.
"She dedicated her time and her talents so that others, Black and White, young and old, rich and poor, Protestant and Jew, could carry the baton a little further across that line. As a family we value the efforts of my sister and others who continuously support academic and economic growth in our community," Parson expressed.
Other speakers included District 7 Councilmember Tiffinni A. Young; Ann Bagley, City of Dallas Plan Commission; David Preziosi, director of Preservation Dallas; and Nethel B.Jackson, chairman of the Landmark Facility Improvements.
The museum will have awards, photos, writings and other artifacts of Gilliam's on display for residents to enjoy. There will also be a reading resource room filled with books because Gilliam believed reading was the key to success. Adult and computer literacy programs will take place in this room as well.
The museum will also support a debate team with students selected from different schools in the community.
It is scheduled to be completed early next year and will host events each month. For more information on events, donating or volunteering, visit http://www.kathlynjoygilliamsmuseum.org.