South Dallas WINS
MIKE McGEE | 11/6/2015, 7:01 p.m.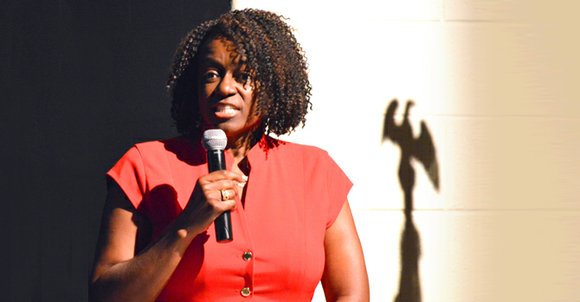 The Dallas Examiner
"When I told my students at UNT-Dallas in my Urban Sociology class that I was moving to South Dallas they looked at me like as if I'd lost my mind – and they asked me why," Dr. Baranda Fermin recalled.
The educator explained further that she and other locals are laboring to dismantle such mindsets through the initiative Working in Neighborhoods Strategically. An unveiling of the WINS plan and an attempt to draw more volunteers took place at Dr. Billy Dade Middle School on the evening of Oct. 22.
WINS was launched in 2014 as a co-creation of Mike Rawlings and Caroline R. Davis, the District 7 City Council representative at the time, with the intent of revitalizing the livability and infrastructure of Fair Park and South Dallas.
Area residents, business leaders and City Hall staff have joined WINS over the last 12 months to bring the axiom "Charity begins at home" into play in the real world.
Since the program's launch, five resident-led work groups have been formed in order to identify the highest priority needs in the South Dallas/Fair Park region and to develop plans to best serve the area, according to WINS.
The work group focuses on economic development, education, health, housing, and safety and security.
"My husband and I moved to South Dallas because we know there's life here. Not only is there life, but there's a good life." Fermin, part of the education work group, remarked that knowledge and scholarship were pivotal to that good life with early childhood education acting as a foundation of growth. The educator acknowledged that she was enrolled in a Head Start program as a child.
"I am a doctor today … a doctor that asks too many questions, possibly in the wrong places, and usually at the wrong times, because of Head Start," she mentioned with irony. "Head helped me read, helped me ask questions, and helped me be curious."
Fermin affirmed that it was vital to the futures of the children in Southern Dallas that Head Start programs be available for all children, whether they qualify for the program or not under the current system.
Byron Sanders, executive director of the Dallas Education Foundation, underscored the doctor's personal experience with his own view on education.
"We truly believe South Dallas is a place where people live and flourish," he voiced. "There was a time in this city when we had some of the best school in the country."
Sanders employed statistics to emphasize that early education in the Southern Sector could produce a generation of future leaders.
"Over 60 years of research shows that a child's brain is 85 percent developed by the time they're 5 years old," he said. "If a student can read on-level by the end of third grade then they're four times less likely to drop out of high school. They are also significantly more likely to attend college, not be incarcerated, and have a living wage career."
With those facts in mind, Sanders declared that WINS would be initiating a program called The South Dallas/Fair Park Parent University.