A complete Thanksgiving dinner made easy
Family Features | 11/16/2015, 8:05 a.m.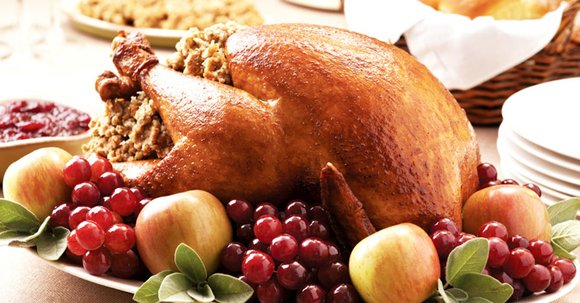 Food. Friends. Family. Football. Thanksgiving would be incomplete without any of them, but the most important is the holiday feast your family and friends have gathered to enjoy while the game plays in the background. Serving up a full holiday spread – from turkey to dessert – that is sure to bring everyone back for years to come is easy with these tips for every stage of the meal.
Farm-to-table
Pair this perfectly pumpkin dessert with a glass of milk for a tasty twist on a holiday favorite. From fourth-generation dairy farmers – Ryan and Susan Anglin and their sons, Cody and Casey, of Triple A Farms in Bentonville, Arkansas – this savory dessert, featured in The Dairy Good Cookbook, is sure to become a tradition in your family, just as it is in the Anglin family. For more recipes, visit http://www.midwestdairy.com.
Pumpkin Pie Squares with Cinnamon Sugar Yogurt Topping
Total time: 1 hour, 20 minutes
Servings: 16
Crust:
1 cup graham cracker crumbs
1/2 cup old-fashioned oats
1/4 cup brown sugar
1/4 cup butter, melted
2 tablespoons low-fat milk
cooking spray
Filling:
2 cups canned pumpkin
2 eggs
3/4 cup sugar
3/4 cup low-fat vanilla yogurt
1/2 cup low-fat milk
1 teaspoon cinnamon
1 teaspoon pumpkin spice
1/4 teaspoon salt
1/2 cup pecans, chopped
Topping:
2 tablespoons sugar
1 teaspoon cinnamon
1 cup plain nonfat yogurt
Heat oven to 350 F.
In large bowl, mix together graham cracker crumbs, oats, brown sugar, butter and milk. Press into thin layer in a 9-by-13-inch pan greased with cooking spray. Bake for 10 minutes.
While crust is baking, in another bowl, beat together pumpkin through salt. Pour over crust and bake for 40 minutes or until set. Sprinkle pecans over filling and bake another 10-15 minutes or until center is set. Cool slightly in pan.
Mix together sugar and cinnamon. Mix in yogurt. Top each square with 1 tablespoon yogurt topping.
Leave your taste buds dancing
With rich, creamy, delicious flavors in every bite, this Sorghum Pecan Praline Cheesecake will leave everyone at your table satisfied. Luscious sorghum syrup, which is naturally high in fiber, iron and protein, surrounds, captures and complements the decadent cheesecake and praline pecan topping. Find more satisfying recipes using sorghum that will keep your taste buds tingling all season long, visit http://www.sorghumcheckoff.com.
Sorghum Pecan Praline Cheesecake
Recipe developed by Brenda Watts, Gaffney, South Carolina
Cheesecake:
6 tablespoons unsalted butter, melted
1 1/8 cups sorghum syrup, divided
1 3/4 cups graham cracker crumbs
4 packages (8 ounces each) cream cheese, softened
1/2 cup sour cream
1/3 cup packed light brown sugar
2 tablespoons all-purpose flour
1 cup sorghum syrup
1 1/2 teaspoons vanilla extract
4 large eggs
Topping:
1 package (6 ounces) pecan halves
2 tablespoons packed light brown sugar
4 tablespoons sorghum syrup, divided
6 tablespoons unsalted butter
1/2 cup packed light brown sugar
3 tablespoons heavy cream
1 teaspoon vanilla extract
1/8 teaspoon kosher salt
Heat oven to 325 F. Lightly spray bottom and sides of 9-inch non-stick springform pan with removable rim. Place pan over center of 3 18-inch sheets heavy-duty foil and securely wrap foil around outside bottom and sides of pan.