Bridging the Health Gap
ROBYN H. JIMENEZ | 11/30/2015, 1:16 a.m.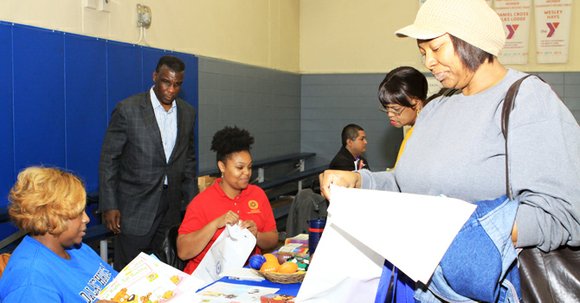 The Dallas Examiner
Health disparities are gaps in the access to information on living a healthy lifestyle and vital resources such as quality health care, as well as nutrients, such as healthy foods like fresh vegetables and fruits.
Communities of color experience higher rates of chronic disease and premature death as a result of inequalities in health and health care. These gaps have been shaped by cultural bias, injustice and inequality that have existed for many generations. And even with the Affordable Care Act, there is a lot of work that has to be done in order to close that health gap, according to Dr. Robin Kelly, chairman of the Congressional Black Caucus Health Braintrust who compiled The 2015 Kelly Report on Health Disparities in America, an official Congressional analysis of the state of African American health in the U.S.
In an effort to combat health disparities in areas most affected by it, The Dallas Examiner joined forces with the Moorland family YMCA and UT Southwestern Medical Center to host a free health expo on Nov. 7 at the Y, which is located in the 75216 area. That particular ZIP code has been known to suffer from the largest gap in access to health care and other important resources.
"The Dallas Examiner did a great job with the expo," commended Zachary Thompson, director of the Dallas County Health and Human Services. "There were a number of medical providers there; UT Southwestern, Dallas County Health and Human Services. That ZIP code, 75216, as it relates to health disparities, is always identified as an area where you see issues related to hypertension, diabetes and heart disease. And so bringing the health fair to the community is the key way to ensure that our residents have access to information and follow-up for medical services."
The goal of the health expo was to provide information and offer demonstrations on how to live a healthy, balanced lifestyle in order to prevent many of the diseases that have devastated African American households for many years.
"One of the things happening in the Oak Cliff community is a high concentration of cardiovascular diseases," said Keith Vinson, vice president of Operations at the Moorland Y. "We had a couple hundred folks to be able to come out and get information that is going to help educate them to be much more healthy. We were able to introduce people to our various programs – one is our diabetes prevention program that people can partake in."
He noted that the health expo was an introduction to the programs, but the Y is available to the community throughout the year for them to come back and continue receiving services and participate in programs that will help them maintain a healthy, balanced lifestyle.
"These are programs that [will provide] ongoing education about how to improve their health," Vinson stated. "They will also introduce folks to our exercise programs. The group exercise programs vary from low impact to high impact – if you want a little more activities [we have] Zumba classes or boxing classes. We have a variety of classes that we were able to introduce folks, even line dance or swing dance. We were able to introduce folks to a variety of activities to keep the heart rate going."