Dallas Cowboys feel season's first defeat
DIANE XAVIER | 10/5/2015, 3 a.m.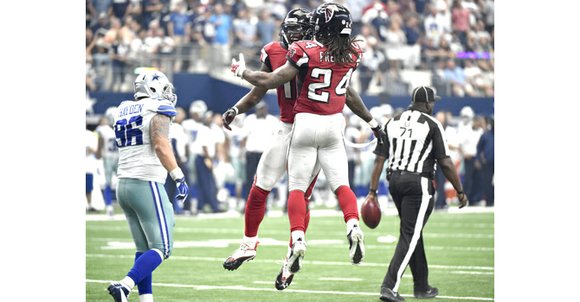 The Dallas Examiner
Despite taking a 14-0 lead in the first 10 minutes of the game, the Dallas Cowboys could not hold on to their lead and fell to the Atlanta Falcons 28-39 on Sept. 27 at AT&T Stadium in Arlington.
The Cowboys were without starting wide receiver Dez Bryant and starting quarterback Tony Romo due to injuries.
Cowboys backup quarterback Brandon Weeden completed 22 passes for 232 yards.
Offensively, the Cowboys failed to score in the second half of the game and their defense also took a beating as the Falcons had 438 net yards offensively. Falcons quarterback Matt Ryan, who struggled in the first half of the game, was able to help the Falcons make a comeback as he and wide receiver Julio Jones connected for two touchdowns. Also, the Cowboys defense was unable to stop Falcons runningback Devonta Freeman as he rushed for 141 yards and scored three touchdowns.
"Atlanta came back in the second half and did some good things," Cowboys general manager Jerry Jones said. "We just didn't get it done. There were some things out there that these players and coaches can easily be proud of. We can look and see how we lost this football game. It's disappointing because we're at home. But we just have to basically look at this and get better. And we can get better. We don't have to wait on help to come to get better. We had a great start, and we had great effort. I thought we had really great effort."
The Falcons were able to shut down the Cowboys running game in the second half, despite Cowboys running back Joseph Randle who started the game with a 37-yard touchdown run.
"Atlanta had a lot to do with that," Jones said. "Give them their credit. On the other hand, the antidote is to back them off. We know how to back them off. We didn't get the plays made that we needed to make. Defensively, I thought we were going to be able to be effective against them. But that #11 [Julio Jones] came out there in the second half and gave us fits. He certainly took it to us today."
The game marks the first loss for the Cowboys this season.
"I am a big believer in momentum," Cowboys head coach Jason Garrett said. "But I am a big believer in 'you make your own' momentum. You make your momentum by executing and doing things you need to do. So it's just not going to happen. Just because you get off to a good start doesn't mean it's going to continue. Just because things aren't going well for doesn't mean that's going to continue. You have to execute and you have to make your own momentum. And you have to stop their momentum. We didn't do that. We had a lot of success early on in this ballgame, we have to continue to execute throughout the game in all three phases to maintain that. And similarly, when the tide turns a little bit, we have to do something to stem the tide. And we didn't do that enough in this game either."