Dallas Cowboys feel season's first defeat
DIANE XAVIER | 10/5/2015, 3 a.m.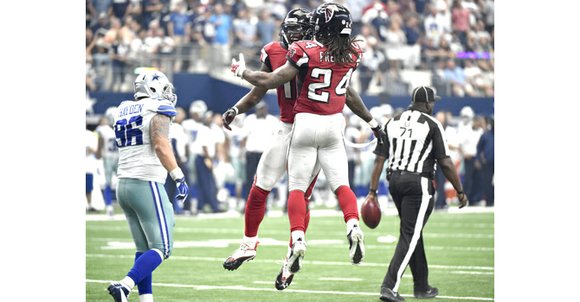 Weeden said he believes he did a decent job as the Cowboys backup quarterback.
"Overall I thought I was efficient," Weeden said. "The one I would like to have back was the one to [tight end Jason] Witten on the seam. I don't miss that throw. I couldn't run down through it. I probably would have hit my hand on his helmet. I just barely missed that one and I'd like to have it back. Other than that I thought it was an efficient day. I gave those guys a chance to run it after the catch and they did that. They had some big plays running after the catch and that was kind of our mindset. I was very comfortable out there. I saw everything pretty well. I thought the offensive line played just outstanding. With the exception of that last sack, it was a clean pocket all day. I thought they played well. I stayed comfortable out there. I was able to look down the field and go through our reads and progressions. Compared to last year at this, it's night and day for my comfort level."
Defensively, the Cowboys struggled in the second half, unable to stop the Falcons from taking over the game.
"In the second half, they were able to get some momentum, make some plays of their own," Cowboys cornerback Brandon Carr said. "In the first half, we did a good job of trying to neutralize #11. In the second half, we just allowed him to get it going. We've just got to find a way to execute – a way to play a 60-minute ballgame. Find a way to still make plays of our own late in a game. The second half wasn't the style of our defense. But we don't blink. It's back to the drawing board to correct our mistakes. They out executed us."
The Cowboys face the New Orleans Saints on Oct. 4 in New Orleans. They estimate the team will be without Bryant for another month as he heals from foot surgery and without Romo for another seven weeks as he tries to heal from a broken collarbone suffered in game two against the Philadelphia Eagles.
"I wish we had all of our players, but that's dreaming," Jerry Jones said. "I liked what we did out there today. I think [Weeden] played within himself. He made a bad decision on his interception. But in general, I bet when we get together and look at it with everybody that he stayed within himself the whole game. He's probably capable of getting downfield some if we had asked him to. But I'm not worried. We just have a lot of work to do to stay in the hunt."