Mastering academic challenges
TCA Feuerstein Instrumental Enrichment for students who dance to a difference drummer
MIKE McGEE | 10/5/2015, 1:07 p.m.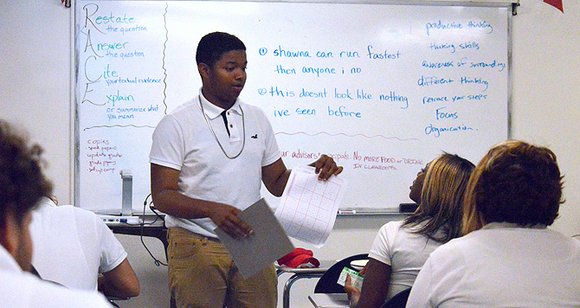 The Dallas Examiner
"Productive thinking," a Texans Can Academies instructor wrote upon a magic erase board inside his Oak Cliff classroom. "Thinking skills, awareness of surroundings, retrace your steps, focus …"
The list of learning tools grew as students called them out to their teacher.
At the conclusion of the list, the teens enrolled in the TCA Feuerstein Instrumental Enrichment program began their assignment.
The curriculum of the program is designed to enhance the cognitive functions needed for academic learning through a series of exercises and specialized techniques, according to a release from TCA, that stated, "Students change from passive recipients of information to confident, active learners to master increasingly challenging academic tasks."
Richard Marquez, CEO of TCA, noted this is exactly the type of students the academies hope to generate. The series of 11 high schools across the state provide learning environments for teens who have struggled in more traditional schools.
"We say our kids, they kind of dance to a different drummer," he explained.
The academies are currently with an enrollment of approximately 4,000 students statewide, and work with children who come to school dealing with a variety of issues – from learning disabilities to problems at home.
"If you first understand that they come here with a third and fourth grade reading level that begins to say it all. Ninety-eight percent of them show up with that particular aspect," Marquez mentioned. "That's why everything we do here is centered on reading, writing and thinking."
There is one teacher for every 15 students so that attention for those needing assistance in class is more individualized.
"We have one social worker for every 90 [pupils] and they're responsible for getting the kids to school and helping them with any other needs that they have," Marquez said.
Employment counseling for TCA youth is done under contract by a private company that is required to show results; this makes the entity accountable for its efforts. Result are what it is all about, he stated.
"Technology is not necessary. Technology is an actual tool. It's a human who makes another human think," Marquez said. "And they make them think around a stimulus."
He noted that the organization is run in such a way that, if a student in need showed up at the doors of TCA headquarters, a place for that child would be found in an academy school that same day to ensure no child is turned away.
The CEO also made it clear that there was a role for Historically Black Collages and Universities within the TCA's mission of their graduates becoming life-long successes.
"We realize that it's the nurturing place for our students. They're small like we are. They need students like we do," Marquez remarked. "Our kids love environments where people nurture them and so we're looking at the issue of sending them as groups, cohorts. As a matter of fact we have 40 students at Jarvis who were at Pleasant Grove last year, and they are all there as a group. And so, we're reaching out to all the HBCUs statewide. We're going to develop a position for someone to work with all the HBCUs and then we'll start looking into their scholarship money, all their assistance for our kids, and then we'll start pushing our kids to go on those trips."